School Sees 18 Point Increase in API Scores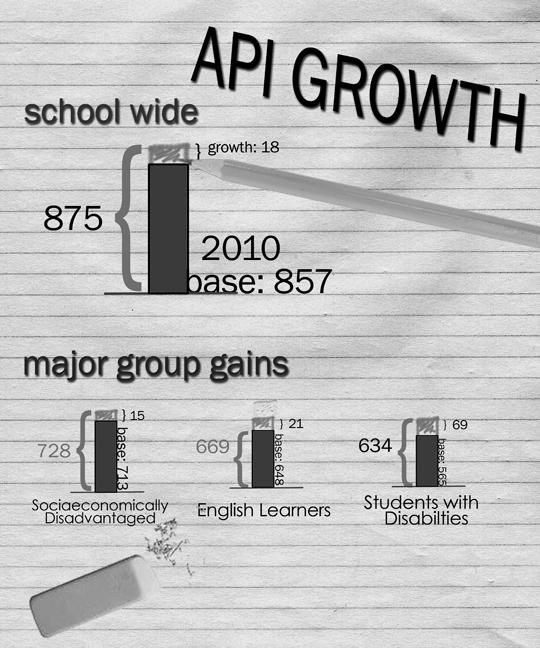 According to the recently released 2011 California Academic Performance Index (API), the school has attained a double-digit increase in API score for the third consecutive year. The school's API has advanced from 857 to 875, marking a gain of 18 points and placing it 134 points above the state average.
The MVLA school district announced the API on Wednesday, August 31. The district as a whole improved by 6 points to a total score of 860. Mountain View High School (MVHS) remained at last year's API of 861.
"There's a sense of pride," Principal Wynne Satterwhite said. "Success breeds success, and these results that we're seeing validate the work that we're doing as a school."
The API score is a numerical measure, ranging from a minimum of 200 to a maximum of 1,000, that reflects a school's overall performance through the results of standardized testing. It is administered by the state and is used to indicate and compare the academic progress of schools and districts across California.
Satterwhite said that collaboration among staff between curriculum, instructional practices and assessment played a "big part" in the school's API increase.
"It's about the conversations we have as we look at the practices that we do," Satterwhite said. "You see more and more sharing of ideas between teachers and across departments. Back in my day it was just you, by yourself, within the same four walls. Now collaboration is a huge part of the success of our school."
According to the 2011 Growth API Report, LAHS met the growth targets of all its categories and subgroups. All schoolwide subgroups maintained their target or demonstrated an increase, with the highest gains made by students with disabilities (by 69 points) and Latinos (by 30 points).
"We're seeing all of our subgroups improve," Satterwhite said. "It's nice to move up, but what's really nice is that everyone is moving up. That's what makes me proud to work at this school."
The California Department of Education states that the API is calculated by converting and averaging the scores of various statewide assessments, such as the California High School Exit Examination (CAHSEE) and the Standardized Testing and Reporting (STAR) Program, which includes the California Standards Tests (CST), the California Modified Assessment (CMA) and the California Alternate Performance Assessment (CAPA). Although the school cancelled the mandatory STAR test preparations during Tutorial/Advisory last year, many teachers nonetheless prepared their students for the STAR test through a series of practice questions in class.
History teacher Michael Messner reviewed four or five practice STAR test questions with his United States History students once every week starting in January.
"It's beneficial because it reviews everything that the students have learned," Messner said. "Once in a while, it'll have questions that actually show up verbatim on the STAR test. In either case, it prepares the students for the test."
While the API score is reflective of the school's success, Satterwhite said that it is not the only indicator of the school's development. Other measures, such as graduation rates, CAHSEE passing rates, and the number of students who meet A through G requirements, also demonstrate school-wide improvement.
"Our API is not an outlier," Satterwhite said. "It's a fabulous reflection on our school, staff and students, but we're pushing a lot of measures in that direction."
The implications of the increase will benefit students, staff and the surrounding community. Higher API scores will not only improve the school's statewide ranking, but will also affect college admission rates and the housing prices of the local residential area.
"I think we have a clearly-defined goal," Satterwhite said. "We want to hit 900, and the staff and students are supporting that."
Messner agrees.
"For two or three years, our scores have been going up," Messner said. "I don't believe it's luck. I don't believe that lighting strikes twice and I certainly don't believe that lightning strikes three times. I think that we have the potential to become a 900 school."
Leave a Comment