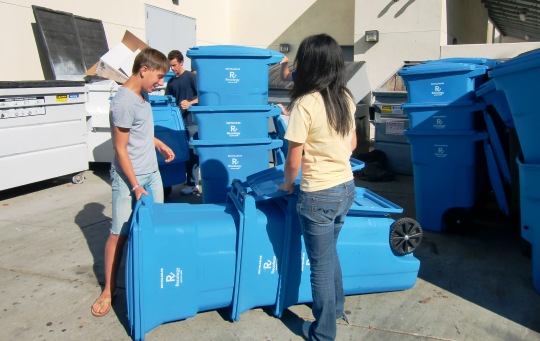 Junior Adron Mason (left) and senior Cynthia Wang (right) look over the new "single stream" recycling cans delivered to the school on Thursday, November 4.
In the month of November, the school participated in a statewide recycling competition. The school recycled 10,840 pounds in total, winning first place in the Blue Whale individual school category. The Blue Whale category recognizes the school that recycles the highest gross poundage of recyclable materials.
Green Team, the AP Environmental Science class and ASB worked together for this competition to alter the school's recycling process. They received new single-stream recycling bins from the company Recology that allowed all recyclable items to be thrown together in a single bin. With the new system in place, the students strived to raise awareness about recycling and the results of the competition exceeded all expectations.
"I had no idea what to expect going in," Green Team member Adron Mason said. "I knew we had an opportunity to make a difference, but I didn't know how much we could do."
Story continues below advertisement
Prior to the competition, the school only recycled 13 percent of the total trash. Within two weeks, the school raised it to 54 percent and won the Blue Whale category by the end of the month.
"I think that winning the recycling contest really shows that we care about what is happening in the world," AP Environmental Science student junior Samantha White-Hauser said. "I think it's awesome how the whole school came together to support a single and really great cause."
Winning the recycling competition is just the beginning. In the future, the recycling program will continue and students are looking forward to making a lasting positive change. Eighty percent of the school's trash is recyclable and the ultimate goal is to recycle 75 percent of the school's total waste.
"[The competition] was a good way to promote awareness, but we're looking to make permanent and meaningful changes in the way LAHS disposes of its waste," Adron said.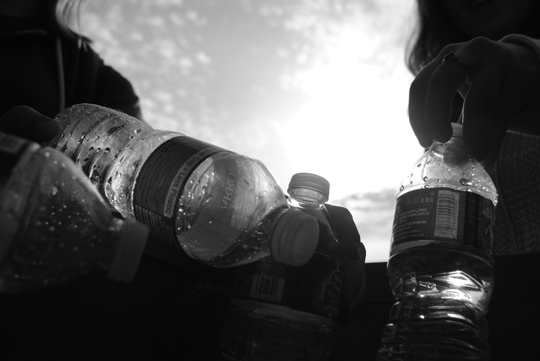 Photos by Amelia Evard.