School Hosts Varied STEM Week Speakers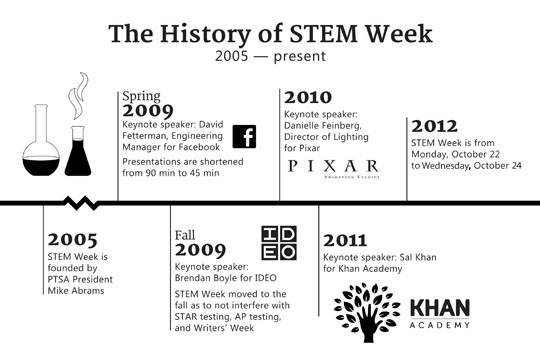 This Monday, Tuesday and Wednesday, the school is hosting speakers who work in Science, Technology, Engineering and Mathematics (STEM) related fields in the Eagle Theatre from first to seventh period. The presentations will first be open to math and science teachers who signed up in advance, and then will be opened to other classes.
Last year's STEM attendance was recorded as the largest in its seven- year history. STEM week coordinator Teresa Kersten believes that this turnout can largely be attributed to the diversity of presentations. Last year's presentations included a broad range of topics from neuroscience to hacking to Khan Academy, an online educational resource for students and teachers which offers more than 3,000 videos.
Prominent speakers for the event this year include Alejandro Garcia, who worked on the physics animation in the film "Madagascar 3," as well as Konstantin Guericke, a founder of the business network LinkedIn. Other speakers include Jill Helms, a stem cell researcher at Stanford, and Charles Huang, the creator of the popular "Guitar Hero" game series.
Kersten said that because the commitee tries to avoid having the same speaker back two years in a row, the coordinators do their best to find unique people who appeal to a large audience of students and teachers. Each year, students participate in surveys after attending STEM week to help determine potential future speakers.
"We go out and say, 'Well who can we find that is involved in video games?'" Kersten said. "We use parent networks … and students suggest speakers. If there's someone who is really wanted, we try to get them."
Garcia, one of the speakers, hopes to speak Wednesday about his work on "Madagascar 3."
"I hope what I have to tell … will be interesting, because it will be sort of a behind-the-scene look at how animation is created and some of the science issues that come up in making a film," Garcia said.
Helms spoke yesterday about her stem cell research at Stanford. Besides the technicalities behind this kind of research, she wants students to pursue their passions. Helms said that when she finished high school she decided to go to college simply because it "seemed like a good idea," but she had no idea what she wanted to do with her life until she became interested in stem cell research.
In addition to the theater speakers, STEM coordinators have set up a list of tutorial speakers including those involved in technology and law, chemistry, Emergency Medical Technician work, CSI forensics, YouTube usability and medical diagnosis.
Last year during tutorial, many students were unable to attend the talk they wanted to because classrooms quickly filled to their maximum capacity. This year, STEM week coordinators are working to make sure this does not happen again.
"We want to do a better job during the tutorials to have more tutorials, or a tutorial with a broader reach, so that more kids can go, because last year some were shut out," Kersten said. "This year we are trying to put someone in the theater [during tutorial] with a bigger draw so that if students can't make it into the smaller classrooms nobody gets shut out."
At the time of publication, a Keynote speaker had not been chosen. In the past, presenters such as the director of lighting at Pixar and Sal Khan of Khan Academy have talked in the Eagle Theatre, a function open to both parents and members of the community at large.
"For a keynote we need to make sure we find someone who's a huge draw and we don't have that person yet, so we may or may not have one," Kersten said. "We look [for someone] who would be appealing to kids and the community and has something a lot of people would be interested in."
STEM week's length has grown over the years. The first STEM week lasted only one day, and it only expanded into the three-day and tutorial format we have now after its fourth year.
Student participation in STEM week has consistently increased over the years, mainly due to a rise in teacher interest.
"Early on teachers really had to see that it was worth it to give up a class period," Kersten said. "Last year they really saw that this was useful, and clearly their kids were telling them. I'd say last year was the best attendance, [and] that's just building up over the years."
As participation has risen, so has the enthusiasm of speakers who have presented in past years. Kersten said the most effective way to encourage speakers to return is with a simple handwritten thank-you note.
"We had a speaker last year who said because that stack of thank-you notes came that she will come any year," Kersten said. "It is … absolutely great that we see some evidence that students say 'Yes, I listened and it interested me and it mattered.' That really is the key."
STEM week is more than just speakers, however. Kersten said that the goal of the event is to demonstrate to students various applications for the material that is provided in their math and science courses.
"I hope my presentation is easy to understand for students who enjoy playing videogames," Huang said. "I hope they see that STEM is in the things they love. I hope the students get an appreciation of video games beyond the fun and enjoyment of playing [them]."
Huang also discussed about the value of STEM education for students' future and job opportunities.
"STEM education is a critical part of a well rounded education," Huang said. "Even if students don't become scientists and engineers, it's still enormously helpful for them to understand STEM concepts."
Kersten said that STEM week is about showing students the importance of what they are learning in the classroom.
"When I look at this list I want to make sure you see that not only that science is something that you can learn but something that you can work with," Kersten said. "Or that math is not only something that you can learn but that it's something that you can use to explore whether there are extraterrestrials out there. It's connecting not just what you study but something you could make a difference by learning about and make a difference in the world with an interesting career."
View Comments (1)