School honors organizations no more than student ego boosts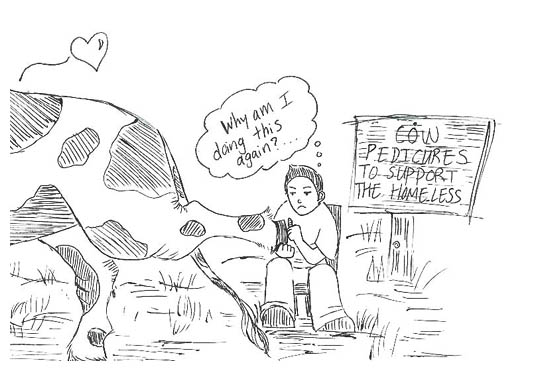 The California Scholarship Federation (CSF) and National Honor Society (NHS) both hold huge weight with many students at the school. In some cases, students equate their worth with qualifying for CSF or being admitted into NHS. Yet the truth is that both of these honor societies are but one dimension of a student's hard work. When it comes to applying to colleges, there are many superior ways to show schools a student's real academic excellence.
CSF and NHS are both dressed-up expressions for high grade-point averages. CSF is based on a point system, where an A merits three points, a B merits two points, and a C merits one point. Applicants are required to achieve at least 10 points to qualify and must do so for 6 semesters to gain recognition at graduation. NHS operates on a similar basis, mandating applicants to have a GPA of at least 3.5 to gain admittance.
But these organizations go no further in demonstrating the extent of students' capabilities. CSF applications disappear, never to be heard from again unless there is a problem with the self-reported grades. And while NHS requires members to perform 12 hours of community service, students seldom do more than go on a beach clean-up or work at an elementary school fundraiser. Senior Anne Mielke found it unnecessary to be affiliated with such an organization.
"I do everything that NHS students do, and I probably log more hours [of community service] than some students in NHS," Anne said.
Additionally, in the light of college admissions, students who put down their participation in CSF and NHS are simply a dime a dozen. NHS is a vast network of smaller chapters with more students than even the colleges and universities care to acknowledge. CSF is also rendered trivial, since it only requires good grades, which already show up on the official transcript the school receives.
"All that [CSF] gets you is some cool pin for graduation," Anne said. "I'm still going to graduate and I'm still going to a good school."
Professional College Counselor at A & J Tutoring Virginia Luthman finds letters of recommendation and summer activities speaks much more loudly to selective universities.
"I certainly do not believe that a student needs to be a member of NHS or CSF to be admitted to a highly selective university," Luthman said. "[Student's] summers should be spent meaningfully taking college classes or doing internships."
The students who will make the biggest splash in the pool of applications are those who have unique work experience, show dedication through volunteering and extra classes or have a special love of classical jazz. College-bound Anne chose to volunteer at Petpals, an animal assisted therapy group, and has done so for four years.
"The reason I didn't do NHS was because I felt I could fulfill my community service with something I wanted to do rather than something I was forced to do," Anne said.
The dimensions of students at the school cannot be fathomed by the admittance to either of these honors organizations. Rather the true worth of each student, as measured by colleges around the country, is the student's uniqueness and dedication to whatever passion the student has pursued in depth. Genuine interest is far better than what is done just for résumés.
Leave a Comment