Sarah Wallace: Journey to becoming the LAHS gymnastics coach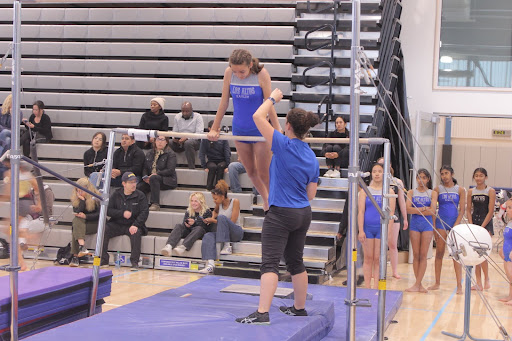 Los Altos High School gymnastics coach Sarah Wallace always enjoyed working with kids. So, at age 16, when her coach asked her to help out with teaching club gymnastics to a group of six-year-olds, she decided to give it a shot. It was love at first sight.
"Once I had that first chance to coach, I realized that it was what I wanted to do," Wallace said.
Since then, Wallace spent nearly 10 years coaching a variety of age groups at her coach's club before it closed. That's when she made the transition from coaching club gymnastics to high school gymnastics at LAHS in 2017.
At first, it seemed difficult to figure out how everything worked. There were so many aspects to school coaching that were different from coaching a club because school gymnastics was more team-oriented. For example, gymnasts compete individually in club gymnastics, in contrast to how points are collected across a team in school gymnastics.
However, through the help of the other gymnastics coaches, Wallace overcame the learning curve of running a school team. Now, she finds the process of fostering close relationships with student gymnasts to be the most rewarding part of the job.
"It was fun to switch to high school gymnastics because it's more relaxed and not as serious as club gymnastics," Wallace said.
With Wallace's support, the LAHS varsity gymnastics team won the Central Coast Section (CCS) championships in both 2018 and 2019, earning her the title of California's Gymnastics Coach of the Year in 2022. For Wallace, receiving the award was a surprise — she hadn't known she was nominated until she received an email invitation to the awards banquet.
"It was an honor because there's only one coach per sport," Wallace said. "I don't coach to be named Coach of the Year, but it was nice to have some recognition."
Although the award was a shock to Wallace, her athletes were far from surprised, as they hold a deep appreciation for how Wallace has always been there for them.
"She's very supportive in her coaching style, but she also leaves us room to be independent, which I really appreciate," team captain and senior Sarah Mosalem said. "Gymnastics is more of a mental sport than a physical sport, so having a supportive coach makes a big difference."
Sarah recalls a time when she messed up and fell during her warmup for beam, causing her to lose her confidence right before a competition. Wallace was right by her side, encouraging her before the performance.
"I don't think I would've been able to regain the confidence to get back on the beam and compete so soon after I messed up if it wasn't for her," Sarah said.
Another memory that stands out to junior Olivia Massey from this past season was Wallace's challenge to the team to attempt the Saltine Challenge. The objective of the game is to eat as many saltine crackers as possible in a minute. However, the challenge turned out to be much harder than expected.
"I thought I could do at least eight, but I couldn't even do two since I was laughing the entire time," Olivia said. "We ended up filming the whole thing and it was super fun."
Just as Wallace aims to always support her gymnasts, she also hopes to make memories with her team.
"I try to keep practice fun so everyone wants to be there," Wallace said. "We play team bonding games a couple of times during the season because those are the things we remember the most."
Year after year, Wallace finds that her main reason for coaching is witnessing her athletes progress.
"Seeing their growth gymnastics-wise and also as people make coaching worth it for me," Wallace said. "I'm there for that fun and that improvement."
Leave a Comment