Ryan Carter gives other counselors a run (plus a cycle and a swim) for their money
Imagine swimming 85 laps in the Los Altos swimming pool. Then biking 125 laps around the school. Then running 105 laps around the track. This—140.6 miles of racing—is about equal to an Ironman-distance triathlon.
There is about a one in 800 chance that anyone you meet in the United States has completed one of these races. Luckily for you, Ryan Carter, an academic counselor at Los Altos High School, is one of those people.
When Carter was a child, his parents encouraged him to swim competitively, inspiring his passion for endurance sports.
"I'm very grateful to my parents for pushing me toward endurance sports," Carter said. "It has set up really good habits for me—not only exercise-wise, but just being a disciplined person." 
Carter stopped swimming and became a member of the ski team during high school, but his love for endurance sports reemerged in college, and he soon found himself enjoying running and cycling across longer distances. Carter reconnected with his former swimming career and joined training groups as he began getting more involved in the endurance sports community.
Soon after his reconnection with endurance sports, Carter competed in his first Olympic-distance triathlon in 2006. While most people wouldn't label that 31.93-mile race as "short" like Carter does, this descriptor does seem accurate in comparison to some of the other races that Carter has finished.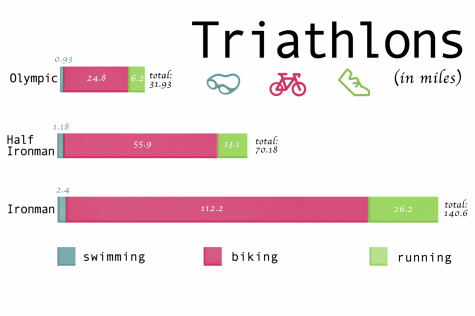 Just one year after completing his first triathlon, Carter ran his first half-Ironman. With the goal of running a full Ironman, Carter hired Chris Hauth, a two-time Olympic swimmer from Germany, as his coach. 
"I had fun and found a lot of success with the racing, but what I always really loved was the training," Carter said. "I loved being outside, putting in lots of miles and having time to myself to recover my energy."
In the summer of 2008, Carter ran his first full Ironman race after just a few years of training, and his endurance sports career continued to progress from there. 
Carter spent the next several years competing in multiple Ironman World Championship events and even qualified for the Boston Marathon, but this intense schedule eventually started to take a toll on his body. After more than seven years of training and racing, Carter decided to end his triathlon career.
However, Carter was not done being involved with the endurance sports community. As his racing career was coming to a close, he began to look into guiding blind athletes on race courses as a way to make a difference and experience endurance sports in a different way. Carter reached out to Lighthouse for the Blind, a local San Francisco agency that provides support for blind athletes, after hearing about it from friends. The agency soon paired him with Lily, a blind athlete who was looking for a guide in endurance races. 
"The first time guiding Lily was pretty scary," Carter said. "I worried I was going do something wrong or that she was going to get hurt. But over time, we found our rhythm by running together and it ended up being a really positive relationship." 
After several years of partnering with Lily, Carter's racing journey finally came to a close. Still, his involvement with endurance training was far from over. After growing tired of going to the gym, he bought a Peloton stationary bike a year ago as a Christmas present for himself, and he's been cycling up a storm ever since.
"The convenience and quality are great," Carter said. "As I've gotten older, I've liked being active on a shorter time frame, so it's really nice to be able to walk into your garage whenever you have 45 minutes and just do it."
Carter's involvement with endurance sports has taken many different forms over the years, and while his triathlon background is undoubtedly impressive, he doesn't plan on returning to racing. However, Carter does see endurance training continuing to be a part of his life.
"Training allows me to be in the present moment," Carter said. "It's just something that makes me feel good, sets the tone for my day every day and makes me feel balanced."