Rock Climbing Club Dares to Go Higher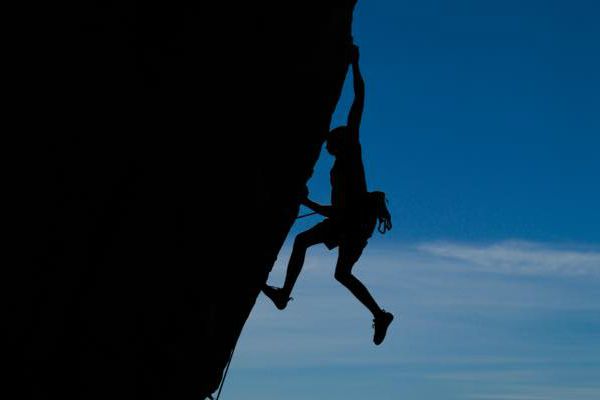 While the world watched in awe as professional climber Alex Honnold scaled the Dawn Wall of El Capitan in Yosemite in January, the experienced rock climbers at our school did not find the feat too far-fetched. Membership of the year-old Rock Climbing Club increases to 70 this fall, with four or five nationally ranked competitive climbers taking the lead.
"The main idea was to just try to spread rock climbing, because… a lot of people don't really know about it," Rock Climbing Club co-president and co-founder junior Tim Kang said. "I love the sport, and it's cool to invite others to at least see what it's like, because you don't really know what you're missing out on if you don't know what's there."
This year, the club plans to take bimonthly trips to Planet Granite, the extensive climbing gym in Sunnyvale, to become accustomed to the mechanics and basics. Most of this year's members are completely new to the sport, and the club hopes to maintain their interests with more structured plans.
For sophomore Dan Appel, a member who started rock climbing last September, the activity wasn't easy in the beginning. Without a consistent climbing regimen, he found himself continuously stuck to entry-level climbs. This year he hopes the club will take more consistent trips to Planet Granite.
"One of the hardest things about rock climbing for me was finding the motivation to come out several days a week and slowly get better," Dan said. "It was especially difficult when I took a long break for a few weeks and came back only to find that I lost a month of progress."
For beginners, the psychological aspect of climbing is the most intimidating. Many newcomers are unprepared for the heights, and most are not familiar with relying heavily on their finger strength to stay on the wall.
"As a beginner climber… it's more of a mental game," Tim said. "I know a lot of people are afraid of heights, people are afraid of slipping because you don't really know what you're up against until you're on the wall. People start to get scared because they go up two moves and say, 'Oh no, I'm not used to this,' because you're not used to climbing if you don't actually do that type of thing."
While the typical image of rock climbers evokes "top roping," where climbers use a network of ropes and harnesses to catch their falls, much of the sport has recently shifted to a type of climbing called "bouldering." Bouldering does away with the gear and focuses on cushioning unsupported climbers with soft mattresses for 10 to 15 foot climbs. The climbing style allows for more spontaneity and is less endurance-based.
"Most of us will boulder in the club," Tim said. "You can make harder moves but on a less risky scale… [With] bouldering it's a little easier to teach rock climbing because it's shorter so we can just show them the movement."
The sport's difficulty begins to increase at the V3 gradation.
"For V3s, it starts to get into technical climbing where you need a little more strength, you need a little more footwork and technique," Tim said. "It starts to become more of a puzzle, like you have to piece together how to do the climb and how to grab these holds efficiently so you don't get tired."
Even for beginners still struggling to get a grip on the sport, each climb can be extremely satisfying to complete.
"Most of the time, you never [finish a climb] on your first try, but in reality that's what makes it actually rewarding," Dan said. "Each time you reach the top, you get a sense of accomplishment knowing that you tried and tried and eventually your work paid off and you reached the top."
The most devoted climbers complete more rigorous training to prepare them for tougher climbs, and take the demanding training regimen as a necessary part of a lifestyle that relies on effort. From the beautiful outdoor climbs in the mountains of California to the fierce competitive scenes, reaching the top of a climb is an awe-filled and immensely satisfying experience.
"I like to look at a really beautiful, just a rad looking [climb]," Tim said. "Sometimes you just get this urge, like 'Wow I want to be on top of this.' In general, being on top of a climb is a pretty surreal feeling. You can test your physical limits in climbing, definitely, and it's pretty cool to see that."
As for the daredevil, epic-length climbs of Alex Honnold, the bold adventurous routes are never as far away as they sound. With a bit of courage and passion, climbers will find that the gym and mountains are not too different.
"You know really anyone can do [the Dawn Wall]," Tim said. "The accessibility is all there. The world is our playground, the rocks are always going to be there, and all you have to do is just be motivated enough to go out and look for it."
Leave a Comment