Robotics team members went to Woodside High School on Friday, October 12 and Saturday, October 13, to compete in CalGames 2012, a robotics tournament. Los Altos competed against 35 other high school teams from Northern California, including those of neighboring schools such as Mountain View High School and Palo Alto High School.
In the competition, robots competed in three-on-three basketball and worked collaboratively to balance on bridges.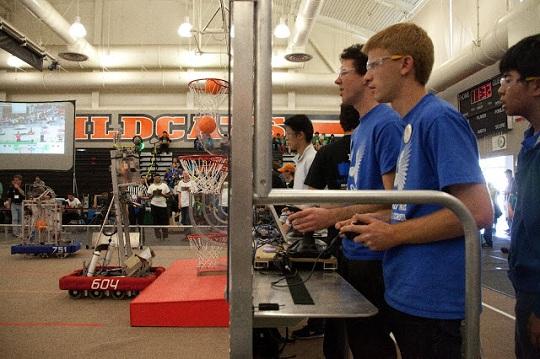 [Courtesy Tim Craig and Craig Zarmer]
Story continues below advertisement
The LAHS team, Eaglestrike, placed within the top 10 after the qualification matches. However, after facing programming and electrical issues with their robots, they were eliminated in the quarterfinals and ultimately placed 11th out of 36.
"We had a very good turnout on both Friday and Saturday," Robotics Club Co-captain Adam Evard said.
Many teams use Calgames as an opportunity to teach new members and prepare for the upcoming season. The tournament is also another chance to compete in Rebound Rumble, a game from earlier this year.
"This tournament is a great opportunity to get back into the season and prepare for the bigger competitions," Robotics Club member sophomore Ian Mackey said.
The tournament is funded by corporations like NASA, the WRRF (Western Region Robotics Forum), and the FRC (FIRST Robotics Competition).