Robotics Seniors Create Lesson Plans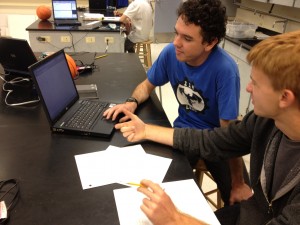 Co-captains of Robotics seniors Adam Evard and Lucien Miller do something most high schoolers do not – make lesson plans. Ever since Robotics became a class in addition to a club this year, Adam and Lucien have switched roles as students and instead have begun to act like teachers. Their tasks range from planning lectures on the fundamental aspects of engineering and robotics to designing worksheets on gear rations to developing a schedule for the entire year in preparation for Robotics competitions next semester.
Although the class does not have a concrete schedule like many of the core classes, which have a rigid calendar laid out at the beginning of the year, Adam and Lucien have a basic idea of what to teach the class. Instead of doing the homework assigned to students taking Robotics, their homework is to create the lesson plans and decide what they're going to be teaching the class.
"Anytime there is a new class that's never been done before, having a strict schedule comes from after doing that class for a few years," Adam said. "The first time you go through the class we don't know how everything is going to work and how much time we're going to need."
For the first two weeks of the school year, Robotics adviser Karen Davis taught the class basic physics, a vital component to understanding how robotics and engineering work. After that, Adam and Lucien took control and divided the class into four different groups. Lucien and Adam teach small groups, consisting of six to eight people, in mechanics, electrics, computer aided design and machining. Each group was trained for four weeks before rotating into a new category. Adam and Lucien, along with other seniors who have been in robotics, teach the new students and members these basic principles. Davis also guides the electronics group, providing them with labs from her physics class. These rotations are intended to make sure each student is well equipped with the different ways of building a robot during competitions.
"The entire season, how we act during the season acts as the blueprint [for our lesson plan]," Lucien said. "At first you need to work on the design process, so brainstorming about how to come up with new designs that's a concept you need to teach. Then we move on to software design and so that's another concept that you teach and start assembling the parts. So all those parts of the build season translate to lessons that we want to incorporate."
Adam and Lucien said that Robotics students are learning more skills since the club has become a class.
"Last year it was a club so everything was learning through experience," Adam said. "But now with the class everyone is getting a more complete knowledge of everything … With the class everyone is getting a broader base of knowledge."
Having just finished its first quarter, the class will still continue to undergo change.
"Later on, maybe in the second quarter, we'll probably be doing more important teaching where deeper knowledge is going to be part of it," Lucien said.
While students are learning through rotations, they also receive homework. Adam and Lucien make the worksheets by hand, researching and looking into textbooks to make sure that they are properly communicating the correct principles.
"You come up with a basic concept they should know how to do," Adam said. "Then you figure out a problem that kind of teaches that. With everything we're doing, we are doing a bit more research. When you do research you kind of learn how to teach it better to other people. By just reading something someone else has written then it makes it easier to teach to other people."
The class consists of people from different math and science levels, so Adam and Lucien have to address that issue. Teaching basic principles in a way that people of all levels can understand can be difficult. Sometimes, it is harder to teach things than it is to do them.
"Some of the knowledge is based on our experience so it's a little hard to teach something to people who don't know it," Lucien said. "That's been a little tricky."
Another difficulty Adam and Lucien face in teaching the class is making sure that it is timed properly.
"There's a lot of behind the scenes stuff that goes into making a lesson, like the structure of the lesson, the entire class over time," Lucien said.
By stepping into the shoes of teachers, Adam and Lucien have also gained an insight into teaching a class and the difficulties that teachers face. There is a lot more that goes into teaching a class than what students anticipate, and Adam and Lucien can attest to that.
"I think it shows more goes into it than you think," Adam said. "We're getting better the more we do it. Practice makes perfect."
Leave a Comment