Robotics challenge unveiled, club begins preparation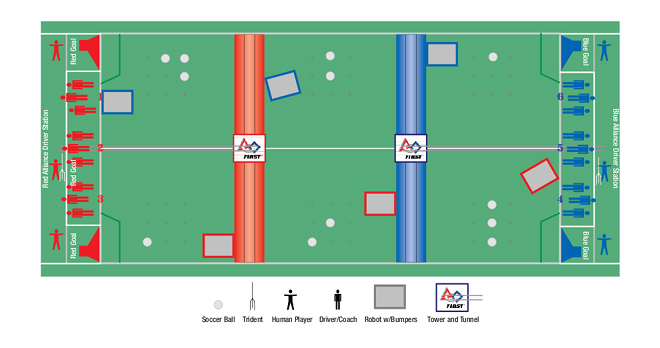 The Robotics Club received email notification of its task for 2010 on Saturday, January 9. The club met over the weekend to determine how best to approach this year's challenge.
Robotics plans to compete in the 2010 For Inspiration and Recognition of Science and Technology (FIRST) Robotics Competition in a game called "Breakaway," a soccer variant that incorporates robots as its athletes.
According to a YouTube clip included in the email, the game is played in a 27-by-54 foot field divided into three zones by ridges. Two "alliances" of three high school teams compete against each other, and each start the two minute matches with one robot in each zone.
The match starts with a 15 second period, where the robots run pre-programmed routes and use vision cameras to sight the goals and attempt to shoot the soccer balls into them. Afterward, student drivers guide their robots while other teammates return scored soccer balls to play.
The game ends with a ceremony of robots climbing atop each other into a formation in the center of the field. One point is awarded per goal, and extra points can be earned in the post game ritual.
"Basically, the robot has to play soccer," club adviser Karen Davis said. "They tell us the game, and now we have basically six and a half weeks to build this robot."
According to Davis, the Robotics Club spent the weekend "planning and talking through" the challenge to decide how to approach it.
Construction of the robot began Monday, January 11. The Robotics Club plans on meeting after school from 3:30 to 9, and all day on weekends, for the next six and a half weeks, Davis said.
According to co-captain junior Anthony Biondi, the club is currently focused on the design of the kicker mechanism and the robot's body style and method of traversing the field.
"We're definitely aiming to win this year," Anthony said. "[In past years,] our bad robots were doing good (sic). So if we build a good robot, we'll probably do even better."
Construction is held in room 602, every day after school through February 15. The animated unveiling video can be found at http://www.youtube.com/watch?v=Ex90Aw4PdAI
Leave a Comment