Rihanna's Fenty Beauty: Makeup For All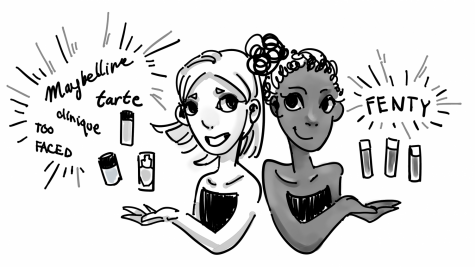 Carissa Lee
Robyn Rihanna Fenty, aka popstar and fashion-beauty icon Rihanna, had not only her fans, but the entire makeup industry clutching their pearls when she dropped her new makeup line Fenty Beauty on Sepember 8 at midnight.
Ms. Fenty came out with the Pro Filt'r Soft Matte Longwear Foundation (40 shades), the Match Stix Matte Skinsticks (20 shades), Shimmer Skinsticks and Killawatt Highlighters (10 shades each) and the Gloss Bomb Universal
Lip Luminizer, along with brushes and other tools for application.
She promoted the line as an inclusive brand and viable option for all people, making sure to address the full spectrum of skin tones from lightest to deepest.
"Fenty Beauty was created for everyone: For women of all shades, personalities, attitudes, cultures, and races," Rihanna stated on the official Fenty Beauty site. This statement is the first thing viewers see. "I wanted everyone to feel included. That's the real reason I made this line."
Fenty Beauty is important. For so many reasons. I could talk about this from a societal standpoint, and point out that in a time where black and other minority communities feel constantly rejected by American politics and society, this line can represent, especially for people of color, a message of our ever-present and important voices.
And I could continue to go on but I'd rather write from a more personal place and let that idea sit as it is.
As a young black (black not just in culture but in skintone: richly melaninated) woman with a warm undertone, it's very difficult to find shades of foundation (the base of makeup) that cater to my skintone. When I do find my shade in makeup, I am often the darkest or second darkest shade. This is ridiculous to me: if I look back on all the shades of brown and black I've encountered in my life, I see women of several beautiful shades darker than me. What do those
women do?
Women and men with darker skin tones have to rely on specific brands like Black Opal that they find to work with their skintones. Many brands have only two or three darker shades, while there's a variety of 10 or more lighter
shades.
The foundations I currently use are MAC and bareMinerals. Though they match my tone, they both have the wrong undertone for me. See, people's skin have different tones underneath that contribute to its overall hue. Some people are more cool tones (blues), more warm tones (reds, yellows, etc,) and others are generally neutral. The problem with using foundation that doesn't match you is quite obvious. It doesn't match you. You look crazy and your body and face are two different colors. It's not a good look.
Let's use Chanel as an example of many brands' prioritization of more fair complexions over darker ones. A quick search on their site and you'll find their Ultrawear Flawless Foundation. There are 12 variations of the color 'beige,' two variations of the color 'caramel' and two variations of the color 'chocolat'. Brands like Maybelline, Too Faced and Tarte follow a similar trend. Makeup brands can have 10 to 20 shades and not even begin to touch on darker shades. That, in a nutshell, is the problem with the makeup industry. Even when it markets for diversity, it tends to have few options with far less consideration for different undertones for the darker shades. It's as if black or dark skin is an afterthought to prevent an uproar from a market that has consistently been under-represented.
Fenty Beauty capitalizes on that lack of consideration and of course it's become a big hit — especially its Pro Filt'r foundation in 40 shades. The darker shades have especially been popular, consistently selling out online and in store. Trust me, I know. It took me three weeks to finally get the foundation online after being matched at Sephora.
A Sephora worker was so shocked by the amount of Women of Color (WOC) she saw in her store, she tweeted, "I work at Sephora and I've NEVER SEEN SO MANY WOC IN OUR STORE. Plus, all the deeper shades of Fenty Beauty are sold out. That's amazing."
This tweet came around 48 hours after the product was released. Affinity Magazine tweeted, "The dark Fenty Beauty foundation shades are sold out everywhere! This is for all the makeup brands who think the dark shades won't sell well."
There you have it. People of color are not only an important group to cover simply because they exist, they are a market that can bring in serious revenue. Black women spend approximately $7.5 billion on beauty products annually, and Rihanna's line has been one of the first high-end lines to directly include this group in such an encompassing way.
I hate to use this phrasing because people on the internet use it too often, but Rihanna's makeup line is truly 'for the culture'.
Rihanna's celebrity definitely helps in the success of her brand to an extent. Other brands such as Black Opal, Bobbi Brown, and Black Up have been on the same trend of trying to be more inclusive of people with a range of skintones.
With the huge wave Rihanna brought over social media and the makeup world, other brands have begun trying to play up their "inclusivity." Meanwhile, my other WOC and I are out here laughing: it took one smart woman to invest in the idea to remind us of the power of catering to all markets of people.
Many celebrities, especially in the past year have broken into the cosmetic industry. Kylie Jenner with Kylie Cosmetics, could have very easily used a similar model of diversity to draw the same level of attention to her line, but she, like many people who appropriate cultures, didn't seize the opportunity to give back to the black and minority communities she's exploited in her success.
Rihanna Fenty Beauty is projected by Forbes to outsell Kylie Cosmetics by 2018, which is fast approaching. It's also estimated to outsell Kim Kardashian's line that came out earlier this year.
This line is not the first to ever cater to women of color, but Rihanna hit the perfect timing socially and in a fashion that leaves many doors open for the expansion of her empire as a multi-million dollar mogul and business woman.
I'm excited to see what else this line will produce and how creative Rihanna can get with her branding and products. She has a new collection coming out for the holidays named "The Galaxy Collection," and I can only imagine all these beautiful girls of many beautiful skin tones "shining bright like a diamond" in her line.
Product Review
Once I got the foundation I found it matched with my skintone well. Some shades oxide (meaning that after the foundation dries, it may become a shade darker). It's medium to full coverage and tends to dry fast, so blend fast and well. If you want to build it to full coverage, make sure to wear a primer and be careful because it can be streaky when too many layers are applied. It lasts really well throughout the day and works well on me (I have oily, combination skin). The finish on the foundation is beautiful and I appreciate the 'real skin' appearance it gives off.
More, I was surprised when I saw the prices. I was expecting Rihanna to charge high-end prices as certainly her celebrity would allow her, but the line is generally affordable. The foundation is $32, the Match Stix highlighters are $25 each, the Killawatt foundations are $34 each and the Gloss Bomb is $18. Overall, I'd say the pricing is medium range, not drugstore, but not as expensive as some of the higher end brands.
There are several items I have yet to try from her line, but overall, I'm impressed. The makeup itself is not ground-breakingly amazing, but it's great quality for the price. For what it may lack in makeup innovation, it makes up for in inclusivity done well.