Riding to the top: Student Bikers at Los Altos
Katie Radcliffe
Senior Katie Radcliffe has always loved the mountains, whether she's hiking, snowshoeing, or skiing. Ever since Katie learned to ski at two years old, she has gone up to Lake Tahoe almost every weekend of snow to downhill ski or snowshoe with her dogs.
It was there, practicing with her ski team this winter, that she was nudged by a teammate to join a mountain biking team competitively. Last spring, Katie dislocated her knee playing lacrosse and started biking for rehabilitation, and her teammate convinced her to pursue biking outside of rehab.
While this season was Katie's first experience with competitive mountain biking, both her brother and father are excellent at the sport; her dad has biked since his twenties and her brother has biked for four years. However, Katie didn't think to join a bike team until her ski teammate encouraged her to because she was already playing so many sports, including skiing, lacrosse, kayaking, cross country and field hockey.
She is now part of the NorCal High School Cycling League, which falls under the management of the National Interscholastic Cycling Association. To prepare for races, she and her team, Black Mountain Composite North, practice in Santa Cruz or Fremont Older; they meet  five days a week, three hours a day, with a guaranteed bike ride every practice and either a run or a workout afterwards. Despite the intensity of workouts, Katie enjoys every second.
"Biking is a good mental space for me to be in," Katie said. "My whole family is outdoorsy, so it makes me feel at peace."
Rather than talking to her teammates while she bikes, Katie prefers ride alone. This helps her enter "flowstate", a self-described "state of zen where you're meditating on your actions." Katie learned how to enter flowstate from her parents, and she has used it to improve her athletic ability.  According to Katie, her inner reflection helps her ignore any physical soreness or fatigue while biking for long distances, and she loses perception of time and is able to compete beyond her limits. She prefers sports like skiing and biking because their solitary nature enables her to enter this superhuman state.
"[When I enter my flowstate, I'm just so focused on what I'm doing that everything else is just kind of secondary in my brain," Katie said. "It feels really good. That's why I choose these sports, I'm just always in a state of flow."
Her flowstate has certainly helped her in her competitions. Her first competitive race took place February 23 at Fort Ord, a classic bike racing spot. The race consisted of  two laps on the curvy, up and down course, for a total of 10 miles. She completed the course in an hour and eleven minutes, staying within 2 minutes of the first place competitor and averaging a pace of 7.2 miles per hour across the whole race; this qualified her to compete in the state championship.
The race will be held on May 14 in Petaluma. With the championships the day after senior prom, Katie's commitment to the sport has held strong.
"It's the day after prom, so that will be fun getting myself there," Katie said.
Shilpa Rao
Junior Shilpa Rao has always been a hardcore athlete. In her athletic career, she has run track, played soccer and tennis, skied and swam. This past December, she discovered yet another sport to add to her repertoire—competitive mountain bike racing. Shilpa was hooked after her friend forced her to one of the informational meetings for ahigh school biking team, Black Mountain Composite.
Once Shilpa attended the meeting, she immediately decided to join Black Mountain Composite, the same team senior Katie Radcliffe rides with. Besides clip shoes and a jersey, Shilpa didn't need to buy any equipment because she already owned a mountain bike that she previously used only for biking to school. She qualified for state championships on her first race at Fort Ord on February 23, less than three months after picking up mountain biking and joining the team.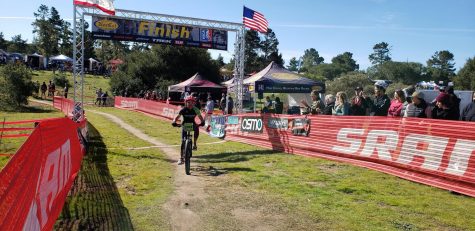 "I literally just started competitively biking in January, and I qualified and placed top 10 within my first two races," Shilpa said. "It's cool and scary at the same time."
To prepare for these competitions, Black Mountain Composite practices five times a week. Three of those days they are out on the trails practicing, and for the two other two days they do physical workouts such as running.
For Shilpa, one of her favorite aspects of mountain biking is its friendly culture and welcoming community. Bikers encourage and even cheer on their competitors during races, and Shilpa has befriended several bikers she has met through bike competitions.
"It's very friendly," Shilpa said. "During races, I'll typically say 'Yeah, go for it, you're doing great.' You are cheering on your competition, which I like."
When Shilpa is not biking competitively with her team, she spends up to four hours biking by herself on trails at Skeggs Point, Fremont Older Preserve, Arastradero Preserve and the trails around UC Santa Cruz.
"Mountain biking is something that is very personal," Shilpa said. "I am alone when I'm outside, and even if there are people with me, I'm in my own element."