Relocation of Castro Street businesses is for the best
Before construction began, Castro street goers could inhale the familiar scent of kebabs, smoke and the savory breeze of Rose International Market. They could grab a Peet's Coffee on a chilly Sunday morning or Gochi sushi for dinner. But these small businesses, close to the hearts of Mountain View and Los Altos residents alike, were relocated to various locations in the city when real estate broker Greystar began constructing a new residential complex above the existing buildings.
At first glance, Greystar seems the villain in a plot to rid us of our favorite local businesses. But Greystar has gone above and beyond what would be expected of a considerate real estate company. The inconvenience of relocation is mollified by the assistance Greystar is offering small businesses, such as paying for location accommodations, paying for interior design improvements and signing long-term leases at low rents. All the businesses have the option to move back to their original, ground-floor locations after late 2017 to early 2018, when the construction is completed. Most importantly, Greystar's construction of 164 one-, two- and three-bedroom apartment units will only help alleviate Mountain View's severe housing supply shortage.
The nature of a physical relocation entails the loss of customers who are reluctant to travel farther to the new location in Cupertino, but the change is not as disastrous for both the business owners and customers.
"It is a little bit inconvenient," Persian supermarket Rose International Market owner Ebin said. "We have had the [original location] for 23 years, and many customers came from Palo Alto and San Mateo, so this [temporary location] is far for them. Over 50 to 60 percent of the customers are still coming back though."
Peet's Coffee & Tea owner Joyce Pippey agrees, adding that Greystar has been extremely accommodating through the situation.
"There were a couple movements and setbacks, but with moves there's always something," Pippey said. "But [Greystar was] extremely helpful. The construction crew they hired, the Greystar people, have been wonderful."
Of the small businesses relocated, five will return to their original locations after Greystar finishes construction: Rose International Market, Tanya's Hair Design, Le's Alterations, Peet's Coffee & Tea and Sufi Coffee Shop and Cultural Center.
Only one business seems particularly displeased about the move: Gochi Japanese Fusion Tapas, a high end Japanese restaurant. The owners of Gochi invested a hefty sum in expensive interior design, unaware of Greystar's plans to sell the land when they first rented the location. Gochi declined to be interviewed.
"They started [renovations] almost six months ago," Ebin said. "I saw [the owner of Gochi] last week, and he said he had had only four months before having to leave the building. They are losing money… When they started [those renovations] four or five months ago, they did not know this was going to happen."
While some businesses like Gochi have suffered as a result of this project, the overall benefit for the city's residents and other small businesses far outweighs any inconvenience caused by Greystar's construction.
Leave a Comment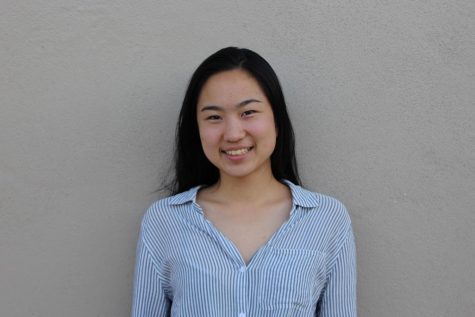 Miranda Li, Print Managing Editor


5'4". Black hair. Actually a lizard. When she think's no one's watching, spends time calling dogs pretty, watches videos about garlic bread in space...