Recipe: Totally Non-Elitist Vegan Chocolate Cake
This cake will most likely be the best chocolate cake you will ever make, and trust me, it's a lot easier than it seems. Vegan baking tends to be daunting to the average carnivore or high school student because it requires substitutions like raw agave or coconut oil–ingredients that most Americans don't often keep in their pantry. (The simple idea of being vegan is daunting to them.) What I loved about this cake, which I found on the internet, is that I didn't have to search deep into the aisles at Whole Foods. Most of the ingredients are common enough to find at home.
Generally, I don't have any modifications to the recipe below. It's pretty straightforward. (But please leave a comment if you made the cake with certain modifications.) However, instead of all-purpose flour, I used Bob's Red Mill Whole Wheat Flour (I'm sure a gluten-free baking flour will work as well). If you don't have canola oil, butter will work perfectly, too.
Ingredients:
1 ¼ cups of flour
1 cup of sugar
1 cup of warm water
1 tsp vanilla extract
⅓ cup of unsweetened cocoa powder (I used Trader Joe's cocoa powder, and was very satisfied.)
⅓ cup of vegetable or canola oil
½ tsp salt
1 tsp baking soda (do not use baking powder—it will ruin everything!)
1 tsp distilled white or apple cider vinegar
Chocolate Ganache (I used half the recipe provided below):
2 ½ cups of chocolate chips
1 cup of soymilk
Making the ganache is pretty simple: add the chocolate chips and soy milk, and stir it over a low heat until it becomes a sauce. Double boilers tend to work better for chocolate, but a normal pot or pan is fine as well.
Cook the cake in a greased pan for around 20-25 minutes at 350 degrees. It will take less time if you are making cupcakes. Just use your judgement. It's always better to mix the dry ingredients before the wet, and add the vinegar last, so you can watch the magic. This isn't the type of batter that I recommend refrigerating as the warm water plays an important key in the baking process (okay, I don't know what it is, but from experience: never mess with cake recipes). I love the batter because I can lick the bowl and spoon without worrying about raw eggs.
Because there isn't the binding provided by eggs and butter, it's natural for your cake to be crumbly. But there's something about messy chocolate cakes that make them seem all the more decadent. After you have removed your cake from the oven and waited for them to cool, you can pour the chocolate ganache or add any frosting you like (it doesn't have to be vegan). I recommend not spreading the frosting on the cake as it may fall apart under the stickiness of frosting, and the frosting will not spread evenly. Use a Ziploc bag with a hole in it to decorate. This cake, however, is perfect in so many ways—consistency, sweetness, and more—that avoiding any topping altogether will also work well.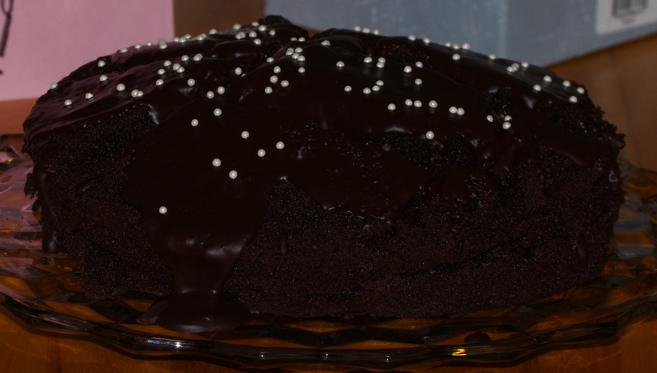 View Comments (3)