Recap: Dodgeball's Final Day
April 30, 2017
Last Friday, the school held the championship round of the dodgeball tournament. Now, all the real fans have to look forward to is the next tournament a year from now — and The Talon's off-season coverage. Scroll down for game reports, scores and words from the players.
Championship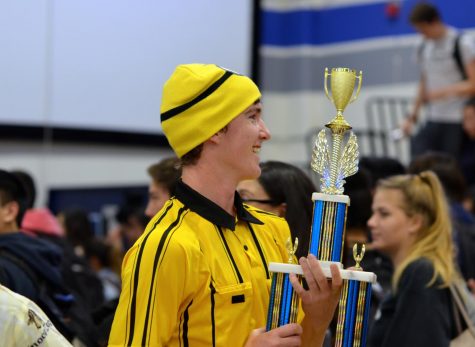 Globo Gym Purple Cobras vs. Goodwill Hunters
In the championship game, the Globo Gym Purple Cobras faced off against the Goodwill Hunters. The Goodwill Hunters dominated the first round both offensively and defensively with multiple back-to-back catches and outs from seniors Krissy Ikeda, Aidan Kelleher and Tommy Andrews. Cobras' senior Albin Mollerstedt made a catch and throw-out to even the playing field, but it wasn't enough. Cobras' senior Meilin Tsao kept the round alive by dodging the balls thrown at her but was finally hit to put the Hunters in the lead.
With a 1-0 lead, the Hunters continued to dominate offensively, picking off the Cobras. Once again isolated, Meilin proved her dodging abilities and even got Tommy out. But a throw caught by Matt Truscott decisively won the game for the Hunters on a 2-0 with 30 seconds on the clock.
"We faced some adversity with two injuries before the tournament so we had two subs," Aidan said. "The subs did great, they were awesome. We had some close games in the end, but we made it, we made it through… It's fun. It's just fun to play dodgeball and to win, it's nice."
Tournament MVP:
Aidan Kelleher (12)
First Team:
Ryan Buchner (12)
Matt Chaffee (Math Teacher)
Eric Jones (9)
Audrey Jones (12)
Aidan Kelleher (12)
Albin Mollerstedt (12)
Second Team:
Zach Espiritu (11)
Simon Heck (11)
Meilin Tsao (12)
Connor Altinger (9)
Ahmad Washington (12)
Brandon Falo (12)