Pumpkin Chiffon Pie
December 12, 2021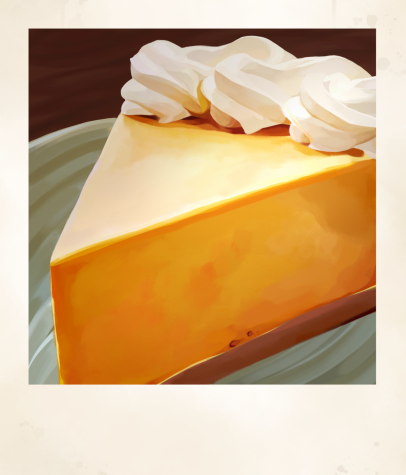 Unlike traditional oven-baked pumpkin pie, senior Carly Watson takes pride in preparing her unique chiffon pie right on the stove. Her beloved family recipe has been passed down from her great-grandmother, who had figured out how to give the pie an unusually fluffy and airy texture. The pie's unexpected gingersnap crust gives the dessert a punch of spice with every bite. She suggests topping the pie with extra gingerbread crumbs and generous servings of whipped cream for maximum enjoyment.
For her family, the recipe not only represents a special once-a-year dessert, but also the very essence of the holiday season: heart-warming memories of enjoying the Christmas spirit among family members.
"I love caroling to our neighbors with my family," Carly said. "I love the lights and music. I love the anticipation and the wonderful smells. I love cooking, baking and hanging out with my family."
Gingersnap Crust
Ingredients:
1 cup sugar
¾ cup butter or vegetable shortening
¼ cup molasses
1 egg
2 cups flour
¼ tsp. salt
2 tsps. baking soda
1 tsp. cinnamon
½ tsp. cloves
1 tsp. ginger
6 tbsps. melted butter
Instructions:
Preheat the oven to 375 degrees.
Cream the unmelted butter and sugar together, then add the egg and molasses. Mix well.
Sift together the dry ingredients and add the mixture to the wet ingredients. Combine until smooth.
Roll the dough into approximately 2-tbsp. balls.
Flatten the balls, then bake on an un-greased sheet for 15 minutes. Wait for the cookies to cool.
Crush the cookies, then mix them with the melted butter in a bowl until well-combined. Press the mixture evenly into a springform pan.
Bake the crust for 5–8 minutes at 375 degrees, then remove the pan and let it cool.
Pumpkin Filling
Ingredients:
1 ¼ cup pumpkin puree
½ cup milk
1/16 tsp. ginger
½ tsp. nutmeg
1 tsp. cinnamon
¾ cup sugar
¼ tsp. orange zest
3 eggs, yolks and whites separated
1 envelope of unflavored gelatin
¼ cup hot water
Instructions:
Mix together the pumpkin puree, milk, spices, ½ cup sugar and egg yolks.
Pour the mixture into a heavy pan or a double broiler on the stove top. Heat on medium heat until thickened for about five minutes.
Add the gelatin to water in a separate bowl and let stand for 3–5 minutes to absorb. Add the gelatin to the pumpkin mixture once the gelatin has bloomed (absorbed water).
Stir the mixture and cool it in the refrigerator until the batter forms peaks.
Whip the egg whites and remaining sugar with orange zest, then fold into the pumpkin mixture.
Pour mixture in a gingersnap crust and chill until set.