Powder Puff finals will take place today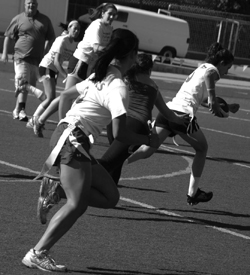 Senior Noorin Dorosti makes a run for a touchdown during the senior versus sophomore Powder Puff football game. The seniors won 8-0.
The first round of the second annual Powder Puff Football Tournament took place last week, giving the girls on campus a chance to show off their athletic talent and school spirit.
The first half of the finals was played at lunch yesterday and the second half of the game will be played during half-time of the Mountain View football game today. The finals will be between the juniors and seniors.
Freshmen and sophomores will be competing in the consolation round today at lunch.
In this tournament, the girls and boys do a role reversal. Girls from each class play football against those from the other classes, while their male classmates coach them. The boys are also encouraged to be the cheerleaders. However, this year, no boys have stood up to cheer on their female classmates.
The junior girls beat the freshmen 14–0 during lunch on Monday, November 2. The seniors beat the sophomores 8–0 during lunch on Tuesday, November 3. Senior Katie Crum scored the first touchdown, followed by a safety touchdown by senior Kalyn Nakano.
Some coaches predict the same or similar results to last year, where the seniors defeated the juniors in the finals. However, Co-coach junior Edwin Zuniga said that his team has the potential to win the tournament.
"All I know is that we got the best plays so far," Edwin said. "We need the girls to run them correctly, and we will stomp on everyone."
The players are excited for the tournament and are preparing at their practices. Co-coach junior Tyler Stout said the juniors also rely a lot on improvisation.
"The game's strategy is typically to give the ball to your strongest players and have them run with the ball," Tyler said. "Few plays are actually drawn up. Most of the plays are spontaneous."
Senior Hayley Stevens believes the seniors will have a more effective strategy this year than they did last year.
"This year we are hoping to win and prevent last-minute wins by having our players mark the fastest players on the other team," Hayley said. "Additionally, we have greatly expanded our team. We have more than double [the number of players from last year]."
Edwin is eager to give the girls a chance to play and showcase their talent.
"Honestly, I think if the girls all work together, they are all the key players," Edwin said.
Powder Puff is a great opportunity to show school spirit. The seniors have ordered T-shirts and the juniors designed their own.
Junior Teresa Fabbricino believes that this tournament is a great addition to the school's events.
"It's one of the few class competitions we still have," Teresa said. "It gives a chance for those who don't usually participate in activites to show their school spirit. It's more laid back."
Leave a Comment