Poetry, Music, Writing: Artists of LAHS
Introduction
During the day, the library serves as a vivacious study spot. But on a chilly night in early November, it turned into a stage where students could share their work while sipping on in-house coffee. For the first time, the school hosted Open Mic Night — an opportunity for students to express themselves in ways that are not often seen in the classroom. In the following spread, several artists, many of whom performed during Open Mic Night, share their experiences on their performances and art that has influenced them throughout their lives.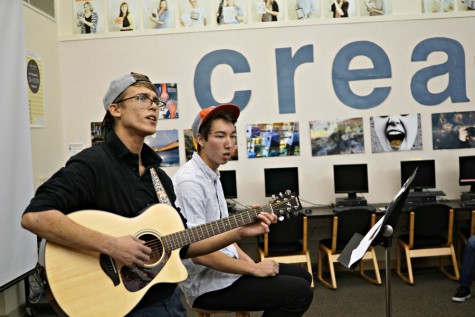 Viktor Niemiec
Junior Viktor Niemiec is a poet and musician.
"I look for inspiration in songs I hear, conversations I have or even the rhythm of footsteps," Viktor said. "Out of the blue, I'll hear a word, rhyme or even sound that excites me and puts me into a place where I want to build my own verses off of it and express how I am feeling through it, whether that be a positive or negative outlook."
Viktor has always been drawn to words and poetry.
"Since I was little, I kept a notebook where I wrote down words that rhymed or captivated my attention in some way," Viktor said. "I started to realize the extent your word choice and how you say things affects how others will perceive you and understand your experiences."
However, performing is not always easy for Viktor.
"The scariest part is the anticipation and the fear that you are going to disappoint the crowd with a piece of art that wasn't original, or fails to connect to the people watching," Viktor said.
In Viktor's case, the rewards of performing far outweigh the challenges.
"Nothing beats the feeling you get seeing faces smile as you throw out a verse that no one expected or a rhyme that resonates with you," Viktor said.
In contrast, writing down personal works can also be gratifying, even if those works are not shared.
"I am most proud of my un-named verses that I always have in my notebook or scribbled down in a conglomerate of meshed emotion," Viktor said.
Although poetry can be difficult, Viktor encourages others to hold on to the unique pieces they create, even ones that they might not be proud of.
"Don't ever scrap your work because you think the idea isn't worth pursuing," Viktor said. "Even if it is not your best work, if you thought of it and it is truly yours it's worth keeping around. Don't obsess over others' notion of perfection. Reflect who you truly are in your writing."
By encouraging others to experiment with new forms of expression, Viktor hopes others will discover a love for poetry and other forms of art.
"Find other people that have that same passion," Viktor said. "By finding others who share the same interest, they can pushed you out of your comfort zone into a new world of expression. Chances are, you won't regret doing it."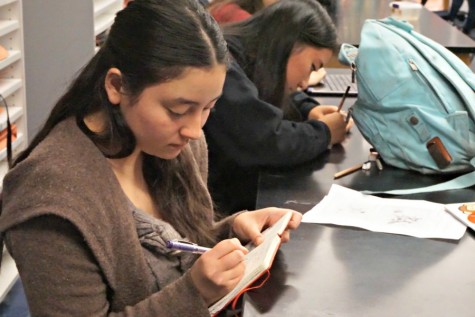 Emily Goto
At a young age, senior Emily Goto fell in love with making both visual and literary art.
"I've always been interested in writing, but [it was] probably reading [that] got me interested in writing because the moment you read something that's really good, you're like, 'I want to make that,'" Emily said.
Emily's passion for creating art stems from her early education.
"I went to a school that was very arts-focused," Emily said. "The moment I left, I realized I needed to be driving my own artistic path so that I could be who I am."
Being able to pursue numerous directions within art and writing has allowed her to gain insight on future projects.
"The reason I do so many different things is because I feel like ultimately those things support each other," Emily said. "Like I'll even start knitting and then I'll come up with something to do. It's like having a lot of creative outlets allows me to gain inspiration from all of them and make stuff at the same time."
Through words and artwork, she believes that something significant can be gained from being confident in her work.
"I think there's a power in showing things to people, but there's also a power in knowing in yourself that something you do is like, 'Oh that thing I just did, I think that's one of the best things I could have ever done,'" Emily said. "Just having that compass for yourself. Now I can say for myself that that was good."
Her philosophy on art is to look at different forms of self-expression and gain insight from previous experience.
"Don't start from nothing," Emily said. "Whether that something is reading a short story and being like 'Oh my god, that image is just so beautiful, I need to draw it. Or whether it's 'Oh that line of poetry is just right. What happens if I take that line of poetry and then change it. Or take all of the words out and put something else.' I think starting from something is seriously powerful because starting from nothing is seriously intimidating."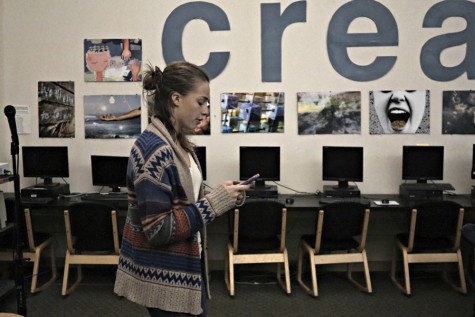 Margo Lusinchi
Sometimes expressing thoughts and feelings can be challenging, especially when they connect to one's deeper and more private experiences. However, junior Margo Lusinchi has discovered a way to overcome this barrier through the art of poetry.
"I think [poetry] is a great way to discover your voice and your way of expressing yourself," Margo said. "Every person's poetry reveals something different about his or her self."
Margo was introduced to poetry in elementary school but took interest in the art when her middle-school English class introduced in-depth poetry analysis. She was intrigued by the messages weaved within the words and realized poetry was an effective way to make a difference.
"Looking at other people's poetry can broaden people's perspectives," Margo said.
Margo does not actively seek motivation for poetry; motivation finds her. If something strikes her in a certain way, she reflects upon it during the day and often writes down the experience the first chance she can.
"When I am feeling a very specific emotion that is overwhelming or hard to express, I like to write about it," Margo said. "A lot of my poetry is observations turned into generalizations and theories on the world and its people."
Poetry appeals to Margo because it nourishes creativity. She constantly pushes the boundaries of imagination to make her writing effective, reflecting that oversaturated topics tend to degrade a poem's power.
"I think a lot of people look down upon poetry — assuming it to always be about love and rain and other cliche material," Margo said. "But when looked at in depth, I think poetry can do one a lot of good."
Margo feels that a vital aspect of poetry is being more vulnerable to others.
"What's really important is to not feel embarrassed about what you write," Margo said. "I know that a lot times I [am] ashamed of a certain thought or idea and [am] scared to write it down."
Margo attempts to realize every potential topic she encounters. While some subjects never leave the pages of her journal, others are brought to life through revisions and, most importantly, being shared with others.
"There are a lot of things that feel impossible to admit or tell people, but it's not good to keep it all in," Margo said. "For that reason, poetry has created both an escape and a blank canvas for me to spill out whatever I'm feeling."
Margo's raw emotion is apparent when she performs, a result of her prioritizing meaning above "flowery imagery."
"[Poetry] has made me feel more confident and free. It has created a kind of therapy that I have found nowhere else," Margo said.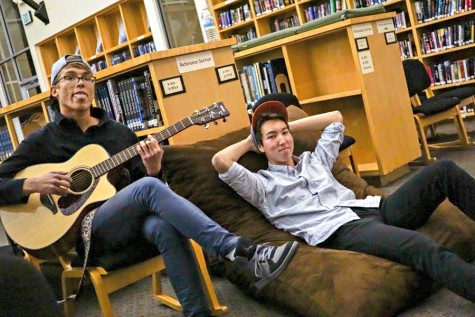 Derek Mark
"Try it out!" junior Derek Mark said when asked what message he would give to anyone about beatboxing.
Beatboxing, also known as vocal percussion, is when an artist mimics instruments such as drums and cymbals using only his voice to create beats. Derek discovered his love for beatboxing in seventh grade.
"I've always had the strange compulsion to make weird noises constantly," Derek said. "Consequently, I decided to take up beatboxing to channel that energy."
According to Derek, the most compelling aspect of beatboxing, is witnessing the audience's reaction. To him, nothing is more satisfying than finding the audience as equally engaged in the performance as the artists.
"There comes a certain connection between performer and observer that can only be achieved if both members feel comfortable with one another," Derek said.
However, discovering this sense of "comfort" is not necessarily easy. Derek explains that he must overcome many fears in order to put himself on the stage.
"I still find it terrifying to be put on the spot in front of an audience, not matter what the size," Derek said. "It's important to note that even the most veteran performers get nervous in front of a crowd — channeling that nervousness into passion, however, can be the most rewarding experience."
Three sounds act as the foundation for beatboxing: the kick drum, the high hat and the snare. Initially, it can be a challenge to correctly form these sounds. However, artists who beatbox carry their instrument with them — their mouth. Eventually, certain rhythms become second nature, and the artist can experiment with more advanced beats.
"The ability to create such a thing spontaneously, its complexity limited solely by our own creativity, is… exhilarating," Derek said.
The goal of a beatboxer is often to not only captivate others individually, but also be in perfect harmony with other performers.
"Performing or even just jamming with another person creates such an amazing form of connection that I think everyone should get to experience at some point in their life," Derek said.
Beatboxing is unique because there are few requisites needed to start practicing. Throughout his experience, Derek has found that dedication is the biggest factor in developing fluent beatboxing skills.
"In a way, beatboxing is like painting," Derek said. "Anyone can start out with a pallet of colors, but it takes the finesse of a brush to create a masterpiece."
Leave a Comment