Pétanque Club Brings a Taste of France to Los Altos
Just a few months ago, senior Bianca Champenois was one of the few people at the school who even knew what pétanque (pay-TAHNK') was. She fondly remembers learning the game from her grandmother at an early age and playing it with her siblings on her grandmother's lawn. In particular, Bianca cherishes her pétanque memories because of what they symbolize to her.
"Pétanque means summer," Bianca said. "Pétanque means getting together for a fun game. Anyone can play, regardless of skill level, [and you can play] at the beach or in your backyard which makes it such a fun game."
Originating from the south of France in 1910, pétanque has become a major part of French culture and leisure. The versatile game is similar to the more popular Italian version of the game, bocce, but it has its own intricacies. Bocce tends to be closer to bowling, while pétanque involves more of a tossing motion, like horseshoes.
There are two teams in pétanque, usually with one person on each side. Each team has four balls or "boules" at the start of a round. At the beginning of a round, one team tosses a small wooden ball called a "but" or "cochonnet." Both teams then throw one boule, trying to get it as close to the but as possible.
The team that is furthest away from the but must throw until one of its boules is closer. If the losing team fails to get any of its remaining three boules closer, the leading team throws the rest of its boules at the but. The round is over after both teams have thrown all of their boules, and the leading team gets as many points as it has boules that are closer to the but than the closest boule of the losing team. The game is often played on a variety of softer surfaces such as dirt, grass and sand, and is played up to 13 points.
Bianca created the Pétanque Club at the beginning of this school year in order to spread her unique passion to different students. She is proud that she can share her culture with the people around her.
"A simple game that is easy to enjoy, pétanque has a low key relaxing atmosphere where you can socialize and just have fun with friends," said club member senior Nathan Smith. "I had never heard of Pétanque before Bianca showed it to me. [It's] not something that's very commonly played around here so I'm really glad Bianca gave all of us the opportunity to see a part of French culture."
Club member senior Sarah Katsev has grown to love the game. She finds herself playing every week.
"It's just fun to be with friends and other people who like weird sports," Sarah said. "Pétanque Club definitely makes me appreciate the French culture more."
Bianca is hoping to gain more participation for the club by changing their playing location. In doing so she hopes that even more people will come out and join her next time they play.
"Pétanque Club not only teaches club members incredible skills, but also helps relieve stress," Bianca said. "I want to move to the quad and bring picnics to all of the meetings to expose more people to our club."
The club meets Fridays at lunch in the back field and is open to anyone interested. No prior experience or skill is required, and even school staff stop by sometimes.
"This club is very inclusive, and people from all different backgrounds come to meetings," Bianca said. "Who knows, you might even end up playing pétanque against Mr. Rosenberg."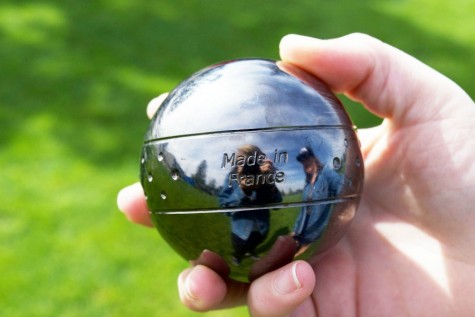 Leave a Comment