PE accreditation policy unfair to some students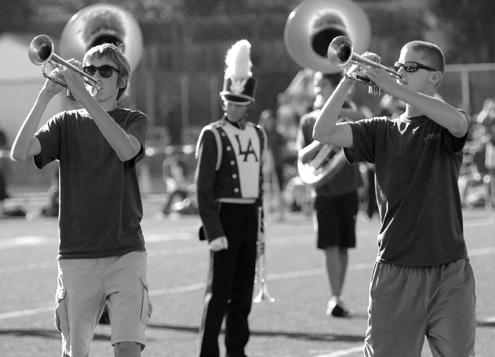 Sophomore Zack Strom (left) and junior Joel Infeld (right) play their trumpets during Homecoming. As marching band is physically demanding, it is unfair that members do not receive PE credits for their participation.
This year, the school has implemented new policies regarding the distribution of PE credit. Starting this year, all freshmen athletes have to be enrolled in a daily PE class, whether or not their sport is "active." Marching band also no longer provides PE credits although it did for sophomores in prior years, as a state law says that PE credit can only be given to a class taught by a licensed PE instructor.
This unfair distribution of PE credits has many students upset. Unfortunately, the school can do little about these policies because they are state law. Nevertheless, the laws are clearly unfair and marginalize many students.
According to Athletic Director Kim Cave, the new policy regarding freshmen athletes was instituted because of a state law.
"It's part of the education code for the state that all students have to be in [PE] class," Cave said.
While it is good that the district is making strides towards accommodating the unreasonable allotment of PE credits, the policy as a whole seems sweeping and detrimental. Freshmen athletes should still receive credit for their sports. No matter what grade students are in, sports are a huge time commitment and are physically demanding.
"I don't think it's really fair," said freshman Megan Stuart, who plans on trying out for the school soccer team in the winter. "There should be an option for freshmen not to do PE so you can distribute credit throughout the four years."
Students in marching band have experienced similar unfortunate problems.
"[PE credit allotment] has been an ongoing battle for the past 20 years," Band Director Ted Ferrucci said.
According to Ferrucci, many schools around the area have decided to continue providing PE credit for marching band because of the policy's inequality.
"You put as much time and effort into it, probably more, than any sport," Leadership Staff member senior Christian Mason said.
While sports usually experience one or two big tournaments throughout the season, marching band members recently have had to participate in six major competitions for six consecutive weekends.
The amount of physical exercise that takes place during daily practices also is astounding as band members march about two miles a day. As it is so physically demanding, the class definitely deserves PE credit.
The state needs to recognize the great contributions that freshmen athletes and marching band members make and give them the PE credits they deserve. Doing anything less would undervalue the roles of two very involved groups in the school and worse, deter future students from wanting to join.
Leave a Comment