Owen MacKenzie Races to States
With his grandfather winning a gold medal at the Commonwealth Games in steeplechasing and his mother running at McGill University, sophomore Owen MacKenzie was born into a running family. Owen started running in New Zealand with his family's running club when he was 8 years old. The sport kindled his competitive nature, leading him to where he is as a runner today.
"My family had a little running club called Scottish Harries, and when I was 8 I ran three races," Owen said. "I think I did okay, and one day [after a race], my mom brought home a medal and said to me, 'Owen, you won this!' It was just a little trinkety thing, but I was so happy and so proud, so I started doing more races and got good at it by continuing to train."
Owen was the only athlete from Los Altos across all fall sports to qualify for a 2016 California Interscholastic Federation State Championship (States). Along with an incredible performance during the cross country season, he posted a prodigious time of 16:29 at States, finishing in 90th place out of 200 runners in the Division 1 for boys.
Owen's drive to excel in training and competition has propelled him throughout his running career, as manifested in his achievements this season. This intense internal motivation, coupled with a desire to be a role model for his teammates in work ethic, has fueled him to his current state of success.
"Owen's always pushed himself really hard and been competitive by nature," assistant cross country coach and Owen's mother Stephanie MacKenzie said. "This summer, we were away on holiday in Canada, and while his sisters were swimming in the beach, he was off doing a 12-mile run. He made sacrifices he knew he had to in order to reach his goal of making it to States."
Los Altos' cross country coach Kenneth Chism also agrees with MacKenzie and attributes Owen's success to his character, namely in regards to his work ethic and enthusiasm for training.
"Owen keeps [the sport] in the right perspective, and he loves learning and being pushed because he knows he needs that in order to be the best and really compete," Chism said. "He's a fun person to be around and he's been great to coach and mentor."
In addition to his individual drive to succeed, Owen wants to set an example for his teammates and help them because of previous positive experiences with teammates who were also his role models. His motivation and perseverance, in conjunction with his achievements so early in his running career, make him an ideal role model for his teammates.
"Last year I was a freshman, and there were two amazing seniors, Ben Zaeske and Andreas Godderis," Owen said. "I went on runs with them, they pushed me and they cheered for me when I raced. I was really sad when they left, but this year we had a ton of really talented freshmen, and one of them, Adam Sage, is close to my pace so we do our workouts together. I feel like Andreas and Ben were so good to me that I want to be just like how they were [to me] toward Adam."
Looking to the future, Owen is excited to run for two more years in high school and continue to improve his times. His goal is to reduce his times by one minute by the time he is a senior in order to make bigger waves at States in years to come. For Owen, ambitious yet realistic goals are essential to success.
"I feel like if you don't set your goals high, then you're just going to achieve [lower] goals and then you're not going to expect more," Owen said. "I don't like excuses. If you make excuses, you're not going to achieve those big goals you set."
View Comments (1)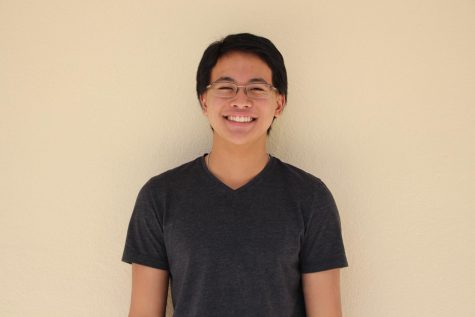 Danny Vesurai, News Editor
Legend says that if you reach deep enough into the inside pocket of Danny's leather jacket, past the hordes of pens and six-sided dice moping dejectedly,...