Old Movies, New Screenings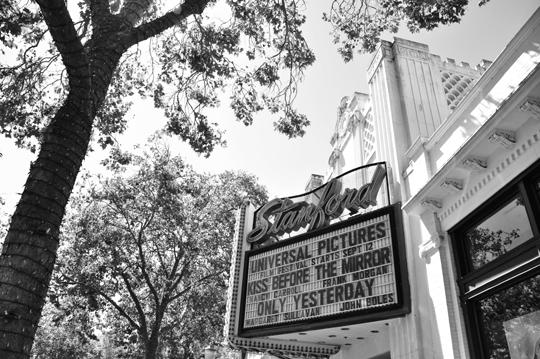 You often hear "They just don't make 'em like they used to" in regards to cinema. When you hear about the greatest movies of all time often "Casablanca" or "Gone with the Wind" come to mind. So why not venture into the masterpieces created by Old Hollywood?
It used to be that the only place to catch these films on the big screen was at Stanford Theatre, but over the summer Cinemark and its subsidiaries (Century, Tinseltown and CinéArts) began screening classic films in participating theaters across the nation and have continued this trend into September.
Intrigued, I decided to see what all the hype was about and bought a ticket for Dr. Zhivago at Century 16. Based on the Boris Pasternak novel of the same name, the movie is a love story that takes place in communist Russia.
The contrast between the typical movie experience of the past versus that of today is fascinating. As opposed to going to a theater with miscellaneous advertisements and previews for upcoming films, there were 10 minutes of a recording of an orchestra as I made my way to my seat.
From there, the movie played, and while I was expecting shoddy production and interminable dialogue scenes, the movie came together quite nicely and I was thoroughly entertained. As an added bonus, there was intermission.
Although Century does not offer this year round, the Stanford Theatre in Palo Alto plays only classic movie and has film festivals throughout the year.
The Stanford Theatre, opened in 1925, and has entertained Palo Alto for decades. In 1987, it was purchased by the David and Lucile Packard Foundation and returned to its original grandeur. The theater's neoclassical architecture, complete with balcony seating, offers a unique viewing experience.
Some extra perks to the Stanford Theatre include that each ticket is $5 for students. A large popcorn is $2.50 and you can save even more money by bringing your own snacks. There is also a live organist that plays during the intermissions.
Additionally, because the Stanford Theatre specializes in classics, it offers lesser-known films. Century, on the other hand, because it is only showing a limited series, is mainly playing the highlights of the era, with big name films like "Chinatown" and "To Kill a Mockingbird."
If you want to get a more general preview of the older style of movies, Century 16 is the best choice. However, for those who want to be truly immersed in old-style films, the Stanford Theatre is the only one to go to.
Leave a Comment