Neysa Fligor makes history
If there was a checklist for the stereotypical Los Altos resident, city councilwoman Neysa Fligor would not check many of the boxes. She is a black mother of young children living in a predominantly white community. Yet, in January of 2019, she began her term as the first ever black Los Altos city council member, and is the youngest councilwoman on the city's first all-female council.
Fligor's story is not just of triumph; it is about resilience. During one of the most memorable campaigns in recent Los Altos history, Fligor lost the 2016 city council race by 6 votes to councilwoman Lynette Eng. Rather than ending her local politics career there, she used it as a pivot to further her commitment and ran again in 2018. Her platform included opposing Measure C while also aiming to understand South Los Altos residents and their interests. Fligor sought a favorable result this past November. This time around, Fligor won every precinct in Los Altos.
Fligor was born and raised in Jamaica. Like her two older brothers, Fligor graduated high school there before moving on to university in the United States. After graduating high school, Fligor lived with her parents in Miami while attending Florida International University (FIU) for her undergraduate degree. At FIU, she majored in International Relations and Political Science, and minored in Latin America and Caribbean Studies. She later attended Georgetown Law so she could be close to family and focus on international law. At Georgetown, she wanted to look for ways she could give back to those around her.
"I was very public service minded," Fligor said. "I wanted to give back to the community. And that was always, if you look back in college, even high school and even my family, they were very involved in the local community, always looking for ways to help our neighbors and giving back."
She moved to California with her future husband David after graduating from law school. She worked in the city initially, but later found a job in Santa Clara County in 2006. After a short residence in Palo Alto, they found a home in Los Altos, buying their home in December of 2010. Coming to Los Altos, she wanted to get involved as she had everywhere else she had lived. And right away, she got her start.
"In January 2011, I remember getting the Town Crier and seeing openings for different positions of committees and commissions," Fligor said. "I immediately applied and got appointed to the Grant Writing Committee."
Beyond local involvement, Fligor has worked on national campaigns as well. She began on the 2000 Al Gore race for the Democratic Party in Miami, and since then, has worked on every Democratic presidential campaign and gubernatorial campaigns in California. By 2014, with a push from those she volunteered with on political campaigns, she decided on running for city council at some point in the future. Although she had initially planned to run in 2018, some surprising news came up.
"Someone told me there was going to be an open seat in 2016 because Meghan Satterly was termed out," Fligor said. "So the thinking was that's when you want to run so that you're not running against an incumbent."
Councilwoman Mary Prochnow, a friend of Fligor's, decided during the summer of 2016 that she would not be seeking re-election. Almost instantly, Fligor began planning out her team. To lead her campaign, Fligor asked Tamara Fagin and Jonathan Weinberg help run the race with her. Weinberg had worked with Fligor on the Parks and Recreation Committee, and Fagin had met Fligor when she participated in the Los Altos Community Foundation's Leadership, Education and Advancement (LEAD) Program.
"Neysa very much is a person with integrity, and that integrity spills out in her philosophy, in her campaign, and I wouldn't want to work on a campaign that didn't have that," Weinberg said.
Launching a bit later than other candidates, Fligor and her team got set to work. Starting in the summer of 2016, they began canvassing and reaching out to voters.
"From two months out, I was sure we were going to win," Weinberg said. "I thought Jan Pepper would get first place, but I was confident that we would finish second. It was obvious to me that Neysa was far and away the best candidate in the race, in my opinion, and I thought that the rest of Los Altos must see that."
But on Election Day, the results were inconclusive and the city was unable to call the election.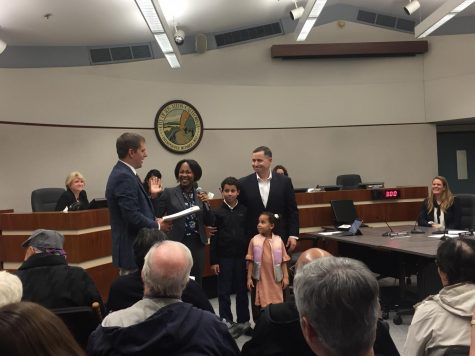 "It was kind of shocking the day of," Fagin said. "We were at a supporter's house and it was very quiet, but I was not at all worried about it. Then everything started not looking good."
And it took nearly two months for the final vote count to come in. And they got the final count. Fligor lost by six votes to well-known South Los Altos resident Lynette Eng.
"A number of people came up to me and said, 'I'm sorry I didn't vote,' and that would have been it," Fagin said.
When reflecting on the campaign, after the months of waiting for votes to come in, Neysa observed the same local opinions.
"In 2016, many people actually thought I would win, so they didn't vote," Fligor said. "Or, they thought I was going to win, so they gave their vote to someone else."
Without officially announcing to run in 2018, Fligor began laying the groundwork to run again. With her newfound public name recognition after the recount, she took on new roles. In 2017, she was appointed to a seat on the El Camino Hospital Board. When the elections season arrived, Fligor started campaigning early.
"From the beginning, we're serious," Fligor said. "This campaign was really going to be about winning."
From all aspects, the team sought to make the most of their campaign.
"In 2016, we spread our money out, spent it here and there," Fligor said. "In this past election, we spent most of it early."
Along with no longer being as conservative with their budget, the team focused on other weaknesses that they saw after 2016. This time around, the team spent more time working with South Los Altos residents and hearing their political opinions, Weinberg said. From having a broader campaign staff and getting out on the campaign trail earlier, Fligor wanted to have everything planned out before the start.
And in the 2018 general election, their strategy paid off. Fligor not only won a seat on council and won the most votes out of the five candidates, but she won every single precinct in the entire city.
"That is a phenomenal accomplishment when you have five candidates, most of whom are strong, so that's incredible," Weinberg said. "There's no way she does that without support from people who were yes on C. I think she got that because she was intelligent and because she was respectful."
Now sitting on the council, Fligor is sticking to her core principles and hopes to carry them out throughout her four years.
"Law, policy, process. Those were the things I emphasized when I was campaigning," Fligor said. "That's what I'm bringing to the table because those are what will save the taxpayer dollars."
Fligor's election to the council marks an new era for Los Altos politics. As a working mother, with Jamaican roots and a history of public service, Weinberg believes that Fligor is the very best of this town, and is poised to continue to do great things for this city.
"For her to accomplish what she has, in her marriage, her kids, her career, are a testament to what Los Altos has in Fligor as a councilwoman," Weinberg said.