New Routers Improve Internet Speed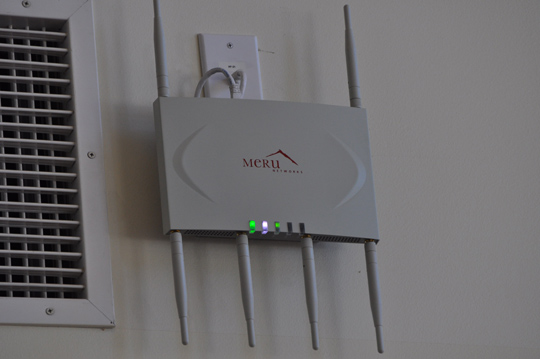 The district has installed new Wi-Fi routers to improve school-wide Internet access.
The new routers should provide speedier Internet as well as more consistent access for users around campus.
Over the Holiday Recess in December, the school mounted the large white routers around campus. The routers, which have been activated, are part of a district-wide plan to improve technology. The MVLA school district collectively spent $118,000 on the installation of new routers at Mountain View High School, Alta Vista High School, LAHS and the District Office.
The district hopes to see improvement from the old Wi-Fi system that Associate Superintendent Steve Hope described as "adhoc."
"Our current Wi-Fi network was meant to provide only minimal service [and] there is a limitation on this network on the number of people who can access it simultaneously," Hope said. "The new network will resolve these issues and provide robust Wi-Fi access to all users on campus."
Students and staff members alike have noticed the lack of minimal service that the Wi-Fi was meant to provide.
"The Wi-Fi now just sucks because it is unpredictable, so I never know if I can rely on using it," senior Teresa Fabbricino said. "I tried using the Internet in Tutorial, but it was too slow and useless."
Once activated, the routers will allow many more users to access the Internet without interruption.
In addition to adding more space for traffic, the new routers will also provide a stronger signal around campus.
"Students should be able to use wireless devices anywhere on campus, including the quad and football stadium, to access information or work," Hope said. "This network will be state-of-the-art and support a wide variety of uses by staff and students."
As for accessing the network, students will still need to go through the same procedure of logging onto the network through an ID and password system.
These new routers will allow students, teachers and administrators alike to access information more easily and quickly, and keep up with the advancing technologies.
"More and more accessing of information is being done with wireless devices," Hope said. "This investment puts in place the capacity for our schools to take full advantage of this change in computing."
Leave a Comment