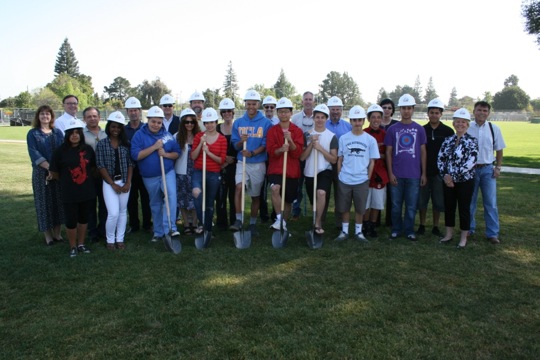 On Monday, May 7, the district had a groundbreaking ceremony to signify the beginning of the construction of new classrooms behind the weight room area.Construction started the following week with fences being put up around the construction area. The construction should be finished before the 2013-2014 school year.
"The ceremony is a formal term, a recognition to let people know of the beginning of the construction," Principal Wynne Satterwhite said.
The new classrooms will be for art and all the world language classes. The new building will have nine regular education classrooms, two art classrooms and a multi-purpose room. Later on, there will be more construction to create two science classrooms in the 700 wing which will replace the old art classrooms. The photography room with the darkroom will still remain. During the current construction period, the west walkway between the baseball field and tennis courts at the back of the school will be closed down.
The money for this project is from the Measure A plan and will cost around $8 million.
Story continues below advertisement
The construction period did not begin the project until now because the school wanted to wait until most of the athletic programs were finished.
"We didn't want to disturb the athletics," Satterwhite said.
The district is constructing the new buildings with the hopes of being enviromentally friendly. Construction materials used will be of "high recycled content," Superintendent Barry Groves said. The district also plans to use materials, such as wood from foresters that use sustainable forestry practices and have operable windows for natural ventilation. The district wants to maximize the daylight to reduce the need for artificial lighting.
"We are building to a minimum LEED Silver rating, which will ensure our classrooms are energy efficient, comfortable and built with techniques that are sustainable to the environment," Associate Superintendent of Business Services Joe White said in a press release.