Newly hired freshman Biology and Biology Honors teacher Archana Venugopal has spent the majority of her life immersed in science, working with STEM subjects throughout her career. But if there's one thing she loves more than that, it's her students.
Born in India, Venugopal moved around California until she finally settled in Irvine, where she attended high school.
"The teachers in my high school years were positive influences and really pushed me to be better," Venugopal said. 
During her time as a student, Venugopal pursued a variety of interests both in and out of the classroom. In high school, Venugopal was involved in tennis and Indian classical dance. After graduating, she attended the University of California, Irvine, where she majored in Biology and minored in Psychology. There, Venugopal continued to try new things, interning as a student journalist and getting her teaching certifications through a STEM-focused undergraduate program.
Story continues below advertisement
"There were so many things I could take a shot at, such as journalism or private tutoring; but I couldn't pick all those cool things to do at once," Venugopal said. "After graduating and receiving my teacher credentials, my plan to progress into medical school didn't seem as exciting as being able to go into classrooms and start teaching."
Venugopal landed her first teaching position at the charter school Palmdale Aerospace Academy, where she taught engineering and biology for five years. From her time there, Venugopal most fondly remembers the bond she formed with her students.
"The students at Palmsdale will always be near and dear to my heart, because they were so willing to learn, willing to try," Venugopal said. "And even when they were having a bad day, they trusted their teachers. Now, I'm already starting to see that at Los Altos High School, too."
After moving to San Francisco, Calif., she continued her career as a biology and earth science teacher at South San Francisco High School, eventually becoming the head of the school's Biology department. At the time, she was colleagues with LAHS biology teacher Linda Hambrick, who later recommended the job opening at LAHS to her.  
"There were things that really struck me about her," Hambrick said. "One was that she loves her students. She loves to support and be with people. She always wanted to be a high school teacher — you can feel it from her."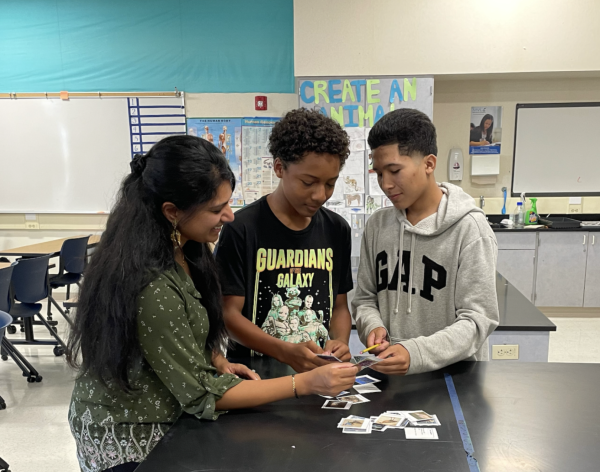 Upon her first introduction to the school, she was welcomed with a warm atmosphere from her fellow teachers. 
"Other teachers came to me and shared their folders with me, telling me, 'Here's things you might need for class; here's how you find them,'" Venugopal said. "Even with the administrative team here, I had lunch with them, and they were all so supportive."
Already, Venugopal's teaching experience has proved helpful to the science department in turn.
"We were actually planning a lesson on biodiversity together, and Venugopal mentioned the biodiversity lab from South San Francisco High School,'" Hambrick said. "She still had those files from years back, so she shared them with me. She's organized, she's got stuff, and she's open to change." 
With the start of the new school year, Venugopal is determined to make it clear to students that she's here to help them throughout their educational journey in any way she can, as she did with all her past students.
"Venugopal encourages us to ask questions and helps us in different ways," freshman Eva Peng said. "She always reminds us she has a ton of resources and she's made sure we know that she's here to support us.