Neuroscience meets art at student-organized auction
An art auction partnered with the City of Los Altos brought together two disparate fields: neuroscience and art. The auction, held at the Los Altos Community Center on Saturday, January 21, presented guests with a variety of art pieces, including paintings and photographic prints, which were available for purchase. All of the proceeds will be donated to a foundation focused on neurological research.
The event was organized by Los Altos High School junior Bridget Liu and BASIS Independent Silicon Valley junior Maya Siram. The two combined their shared interest in art and science by founding the Neuroscience Art Auction in 2021.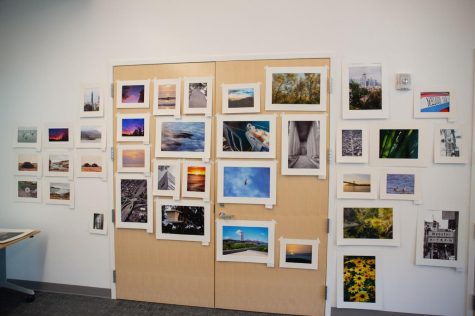 Bridget and Maya complement each other well in their roles. While Bridget has a personal connection to neuroscience and is more involved with art, Maya handles the business and public relations factor of their non-profit.
"My mom had this brain tumor when I was in seventh grade," Bridget said. "After that, I was like, oh my god, brains are really interesting and when they stop functioning as well as they should, bad things happen. Because of that, I wanted to combine something with neuroscience and art."
This is the third year of the Neuroscience Art Auction, but also its in-person debut. Despite the challenges introduced—such as getting guests to attend the auction—both of them prefer hosting a live event.
"[Online was] more of a chore than anything," Bridget said. "This is more fun."
The auction featured a diverse array of art pieces donated by 25 student artists from LAHS, Cupertino High School and other schools in the area.
"I decided to donate my art and my time to the fundraiser because I believe it's a good cause to raise awareness and money for [neuroscience]," LAHS junior Anthony Tam said. "I think it's cool that we can donate money for other people who need the money."
Students were eager to use their artistic talents to give back to their community. For many, it was their first time donating to the auction.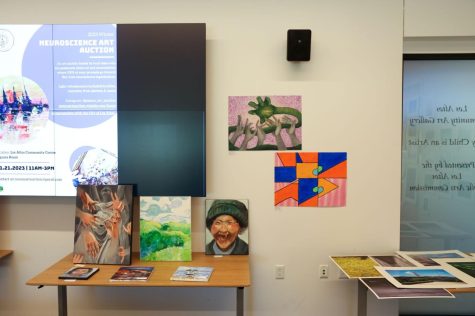 "It feels nice to actually contribute to something," LAHS junior Kevin Lee said.
Maya explained one of the most valuable parts of hosting these art auctions is being able to see her own contribution to neuroscience research.
"It's nice seeing [the impact], because this is something that you did personally," Maya said.
While finding volunteers wasn't an issue for Maya and Bridget, they both experienced challenges in the business aspect. One of these challenges arose around a year ago, when they both spent a few hours passing out flyers, and didn't notice an impact in their audience.
"[The flyers] didn't really ever work," Maya said. "It is difficult to reach the right people who are interested in your auction and it's difficult to give the little boost to it that makes them want to stop by."
The difficulties with marketing were most prevalent with the online art auction, as Maya explained there it was hard for people to believe in the credibility of an online auction.
"It's a lot easier with an in person option for sure," Maya said. "Especially since we partnered with Los Altos on this one."
This year's auction raised around $1,700, and the charity has yet to be determined. Last year, they donated to the Pediatric Neuro-Oncology Consortium, which they are considering again. As their team has grown, Bridget and Maya want to have a more democratic process of choosing a charity and will leave the vote up to members of the Neuroscience Art Auction.
The non-profit is thinking about hosting another art auction this year. Information about upcoming events can be found on their Instagram, @neuro_art_auction.
Leave a Comment