Netflix actor Sophie Kim sets the stage for youths with disabilities
If you were asked to make a list of actors who use a wheelchair, how long would that list be? For most of us, it's a struggle to get a single name out.
The underrepresentation of wheelchair users in the media is difficult to ignore, and poses a serious question: How are young wheelchair users supposed to feel accepted by the industry? When freshman Sophie Kim, who has Ullrich congenital muscular dystrophy, a genetic condition that weakens skeletal muscles, was cast to play Amara Kim in the Netflix show "The Healing Powers of Dude," she became her own television role model, as well as an inspiration to other youths with disabilities. The show focuses on a middle school student with social anxiety, whose dog and friends, including Sophie's character, support him throughout his day-to-day obstacles.
Maybe Sophie's fate to reach television started at age 6, when she dreamed of becoming a pop star. Or it's possible it began when she took the stage in front of rows of parents holding back tears as their kids performed their hearts out in a third-grade production of "Peter Pan." Regardless, Sophie was made for the stage.
"I struggled with my confidence in elementary and middle school, so stage fright was something I had to overcome," Sophie said. "But ultimately, the thrill of performing lit a little spark inside me."
Sophie didn't intend to turn this spark into anything bigger than performing in school plays until the opportunity to be cast for "The Healing Powers of Dude" came up. After hearing about a global open call audition looking for an authentic wheelchair user, Sophie's family encouraged her to give it a shot. While performing in those local productions, she never considered acting as a possible career path, and certainly never saw herself starring in a Netflix show accessible to millions of viewers.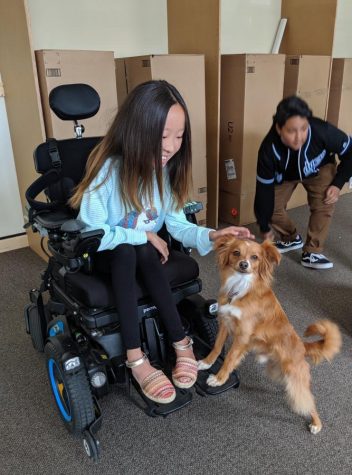 "At first I laughed; I had literally done two plays in elementary school, and I questioned if this was really a spot that I could fill," Sophie said. "But, I ended up getting chosen out of all the other applicants worldwide."
Suddenly, Sophie's life was adapting to fully revolve around the filming of the show. Her new routine had her waking up early in the morning, eating her daily dose of waffles and driving to her trailer on set where she'd get ready for her scenes in the beautiful city of Vancouver.
"I'd arrive at the studio trailers where I'd get changed into my costume and have my hair and makeup done by two of the sweetest ladies. Then I'd meet with the crew, get my mic on and practice with my acting coach and co-stars before my scenes," Sophie said. "In between filming two to three scenes a day two to three days a week, I got the chance to enjoy Vancouver and the great food there."
Sophie dove right into her new role without any expectations, which resulted in a few shockers, like the fact that directors aren't actually terrifying and mean. To her surprise, the director and writers were always trying to make the script feel natural to the actors, so Sophie had the power to alter lines that didn't feel quite right.
Missing a few weeks of school was a small price to pay for the welcoming community she became a part of, the surreal filming experience and the huge tables of unlimited snacks.
"It was a very tight-knit family," Sophie said. "The cast would hang out outside of filming, so we were all close, and even though the filming is over now, we still keep in touch. My favorite memory was when everyone threw me a surprise birthday party on set; it was so sweet."
Looking back on it, Sophie realized that she didn't really consider an acting career because there were so few roles for actors with disabilities on TV, especially for teens. For Sophie, this show finally emulated the realistic school lives of students with disabilities she yearned to see as a young kid.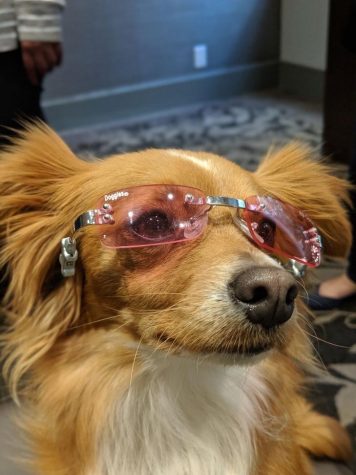 The show follows Noah Ferris, an 11-year-old boy with a social anxiety disorder in his first year at a public middle school. With his therapy dog Dude by his side, Noah finds a group of supportive friends including Sophie's character, Amara, who continues to fight against her own set of obstacles as a wheelchair-using student.
During one scene, Amara doesn't get cast for a part in her school play as a result of her disability, an unfortunate reality that Sophie can empathize with, as can many others with disabilities. This portrayal of day-to-day discrimination brings awareness to the often ableist tendencies of the entertainment industry as a whole.
"Whenever I think about why I don't see more people like me on TV, I remember that it is me," Sophie said. "I am the representation of people like me. I feel a great responsibility, but this experience is also something very special to me."
Embodying this role has also reminded Sophie that her disability is a quintessential part of her identity. She shares this empowering perspective with fans that regularly reach out to her, a great portion of whom live with disabilities.
"It's weird and a bit nerve racking to imagine that people are actually watching me on TV," Sophie said. "But I try to respond to everybody's DMs and remind them to follow their dreams. I'm not saying it's going to be easy, because it's already a hard industry to crack and for disabled people, it's even harder, but more doors are opening. And this was a sign of it."
The creation of "The Healing Powers of Dude" was an inspiring push for a more diverse future in television. The show features students with a variety of disabilities and conditions, which allows each of them to shine as a mentor to the public.
"The responsibility of it all doesn't feel like a weight on my shoulders, but I don't feel like a hero either," Sophie said. "I just feel like I'm making a difference."
View Comments(1)