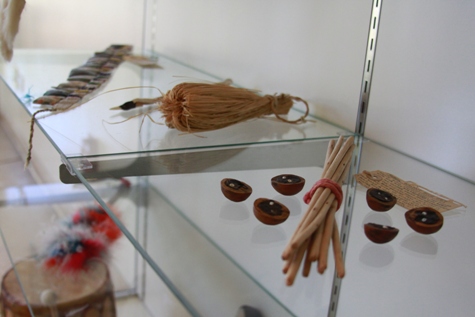 At the beginning of the school year, the Jane LaDu Eustice Memorial Collection of Native American items was brought back to the school library. Librarian Dr. Nina Waite was instrumental in bringing the collection back to the school and installing it at the entrance of the library.
The artifacts were assembled to commemorate the life of Jane LaDu Eustice, who served from 1959 to 1967 as a member of the Board of Trustees of the Mountain View-Los Altos Union High School District and one year as president. She was also involved in the advancing of women's rights, starting the Los Altos branch of the American Association of University Women, and serving as a member of the Los Altos Morning Forum and League of Women Voters.
Eustice was a supporter and collector of Native American art, particularly that of the West. After she died in 1975 at the age of 56, her husband, Gordon Eustice, thought donating the collection to the school would be a fitting tribute to her educational and cultural contributions.
Story continues below advertisement
"It honors her memory," Waite said. "She was an avid collector and collected some really nice things that reflect a lot on the cultures of those who made them."
Dorothy Dunn Kramer, who studied Native American art in the 30s and established Native American schools and craft centers, served as the consultant for the art collection. She also contacted others to contribute to it, and put together a catalog detailing each item, which can still be found in the school library.
When Waite began her work in the fall of 1999, the collection was boxed in storage while the the library underwent construction.
It contains baskets, dolls, a headdress and a variety of other items that are from the Miccosukee, Cherokee, Comanche, Kiowa, Apache, Navajo and Yurok tribes. The items in the collection were crafted more recently, although they represent longstanding artistic traditions of Native American tribes.
When Waite found out money for trophy cases had been donated to the school, she worked to find the appropriate cases in time for the beginning of the school year.
"I love it," Waite said. "Anything that brings people in and gives them something interesting to look at and something new, something beautiful, brings another shade of glory to our school."