Multiple departments collaborate to make props for musical
This year, the Design and Prototyping class and National Art Honor Society (NAHS) have collaborated to create and paint props for Los Altos's production of "High School Musical."
Prior to this school year, robotics and physics teacher Stephen Hine, Design and Prototyping teacher Adam Anderson and drama teacher Nancy Moran all separately held an interest in more skills classes—like the aforementioned Design and Prototyping and upcoming capstone class—being introduced to Los Altos's curriculum. When the musical was announced, the three decided to collaborate. The idea was later brought to art teacher Christine An who passed it off to NAHS.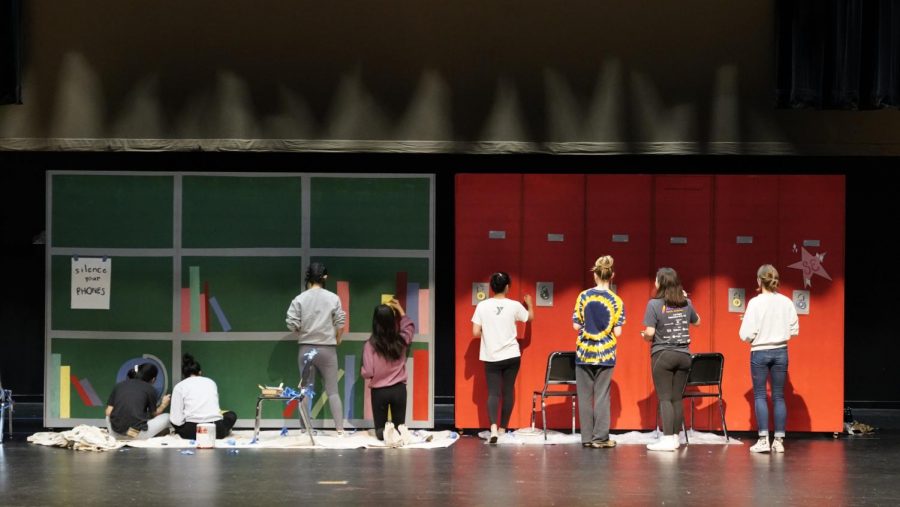 "I've always wanted this larger program that really shows students how to apply their school learning in a real-world context," Hine said. "So any chance that we can bring all these new classes and all these new ideas and projects together, I'm all for that."
In the Design and Prototyping class, making props for the musical has become an assigned unit. Anderson was given a list of needed props and general dimensions from Moran and the options were presented to his class. The students then chose what they wanted to work on—rotating walls, lab benches, banners, etc. Before, props were either repurposed from what Moran already had or rented from an outside company.
For engineering students, the process follows a general outline: create a 3D model of the desired object, order needed supplies like wood, measure and cut materials, then assemble the pieces. All of this work is done in Anderson's fifth period. 
As for the background sets, NAHS volunteers painted books and lockers onto large rolling walls after school and over the weekend.
In having students build and paint projects that have real-world implications, Moran, Hine and Anderson hope to inspire and reignite a passion for their subject. 
"The research is very clear that with a career technical education, students are more interested in being in school when they can see what they're learning is applied to something they might do in their future—bringing in more of an applied focus, showing why subjects like math, physics and chemistry matter," Anderson said.
Moran, Hine and Anderson hope to have students begin to better appreciate what they're learning through having students participate in this project with tangible results.
"We'll all be going to see the musical and I think the students are really excited about seeing what they built in use," Anderson said. "That's going to be really powerful." 
Students participating in the program echoed similar sentiments.
"It was nice to be able to work on something for different classes and have an actual purpose for projects," engineering student junior Natalie Tran said.
NAHS member freshman Rose Shortland expressed similar feelings about the experience.
"I really liked the musical and I wanted to help out somehow, so I thought painting would be a cool way to do so because it's applying something that I enjoy doing to something else that I find interesting," Rose said. "I'm going to watch High School Musical as well so it'll be cool to sit there and see it in amongst the production."
In the future, all three teachers hope to repeat this collaboration and hopefully introduce more skills classes like Design and Prototyping to Los Altos. 
"I think it's important to bring all of these worlds together and let students see how we can all really connect," Moran said. "I think for the foreseeable future we'll definitely do this again."