MVLA School Board approves 2015-16 district budget
On Monday, June 22, the district board of trustees unanimously approved the 2015-2016 district budget. An unusually high revenue level will allow the district to fund new programs and keep current ones. The budget funds all district services, including both high schools and other services such as adult education.
MVLA is a basic aid district, meaning that its funding comes almost entirely from local property taxes, which are very high in this area, and less from state allocation. For this school year, local property tax makes up 85 percent of the $69.6 million in district revenue.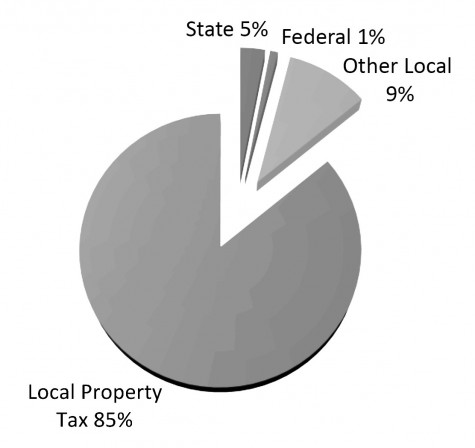 "Most school districts in the state get some [funding] from local property taxes and the rest is funded by the state," Associate Superintendent Mike Mathiesen said. "But we get ours from almost all purely property taxes, because we get so much more in property taxes [than other districts]."
The budget assumes a 9 percent growth in property tax revenue, which is in line with past figures. MVLA's tax base has grown significantly in recent years as a result of the economic recovery, but its growth may slow down in the future. This is why the district sets aside 5 percent of its budget to guard against future economic uncertainty or changes in tax revenue.

"We are still looking at strong forecasts this year, next year and the following year, but after that, we do not have a crystal ball," Mathiesen said. "But a new recession will come — it is just a matter of when. 9 percent growth year to year for five to six straight years would be hard to imagine."
Much of this year's revenue increases will go toward paying increased expenditures on salaries and benefits, such as the state pension system. The system has been underfunded for years and recently required larger district contributions in order to compensate.
"The California State Teachers Retirement System said that districts need to contribute more money [to fund pensions]," Mathiesen said. "For a lot of districts, even if they pay the teachers the same salary each year, the cost to the district… just went up, because every year they are paying an extra 2 percent in salary costs to the state retirement system."
Additionally, the extra funding will allow for increases in staffing at both school sites. Hiring new employees is especially important because the district's enrollment is projected to grow to 3,936 students, an increase of approximately 100 students over last year.
"[Increased funding means] we can accommodate a growing enrollment, which means more teachers," Mathiesen said. "We have added a clinical services coordinator who will coordinate mental health awareness [and] support what we already have on campus: a therapist and the counselors. We are [also] able to make [the athletic trainer] a full-time position."
Funding increases will also allow the restoration of the Young Parents Program, which will be integrated into adult education. The program, which was cancelled last year, provides daycare, transportation and counseling services to allow students with children to continue attending school while also caring for them. It cost approximately $100,000 and served eight students when it was cancelled.
Although most of the district's revenue comes from property taxes, 15 percent is derived from other sources, including the state and federal government. This year, the state has restored $3.2 million in funding to the district for adult education. Previously, the district had to fund adult education with its own money, and now that state funding has been restored, the funding can be reallocated to benefit other programs.
"Now that we are receiving direct money for adult education, the money that we used to… set aside for adult education is now freed up," Mathiesen said. "[Now we can discuss] 'What is the best use for that money now?'… For example… we want to look at expanding our current technical education programs, and maybe we could provide buildings and space for those programs."
The school did not have any renovations this summer, because it was hosting summer school, which could have been disrupted. However, this year's budget provides for renovations to occur next summer, including changes to the east drive, locker rooms, library and irrigation system
Leave a Comment