MVLA ends relationship with Ethnic Studies contractor after accusations of antisemitism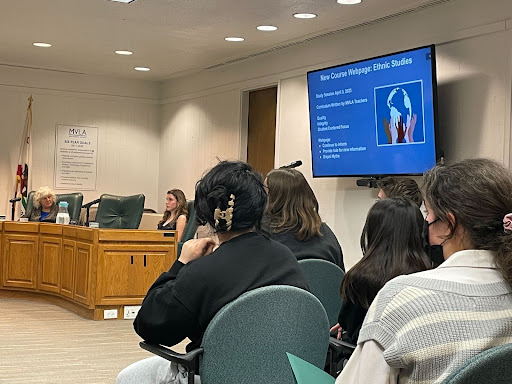 The Mountain View–Los Altos (MVLA) District Board recently terminated its contract with Acosta Educational Partnership (AEP) after allegations that AEP trained Ethnic Studies teachers in antisemitic and anti-Zionist ideologies. 
According to a report by the Los Altos Town Crier, AEP founder Curtis Acosta confirmed the termination of the $45,000 contract.
"MVLA has acknowledged having received services from AEP and is making a final payment to them," Board President Phil Faillace wrote in an email to the Town Crier.  
Many MVLA community members urged Board members to end their partnership with AEP, claiming that the District's Ethnic Studies curriculum perpetuates false notions about the Jewish state and  promotes division between racial and ethnic groups. 
The Alliance of Constructive Ethnic Studies (ACES), a coalition advocating for modifications to California high schools' Ethnic Studies curricula, sent an open letter to the District charging that its Ethnic Studies curriculum is antisemitic and politically charged. The organization requested that MVLA postpone the implementation of Ethnic Studies as a freshman requirement, revise the curriculum, implement a yearly community review of its teachings and train teachers on a less "divisive" version of Ethnic Studies. 
"Unfortunately, it is clear that the MVLA Ethnic Studies pilot curriculum has resulted in classroom lessons that elevate violent role models, divide students into victims and oppressors based on the color of their skin and advocate for one-sided political action," ACES said in their open letter. 
However, many have found that some of ACES's allegations are false. Reporting by the Los Altos Town Crier finds that ACES's objections to Ethnic Studies lessons about topics like Christopher Colombus are based on incorrect interpretations of MVLA curriculum. 
Many MVLA parents spoke at District Board meetings in February and March, claiming that the Ethnic Studies course falsely casts Jewish people as practitioners of genocide, ethnic cleansing and apartheid. One parent claimed that the course insists Jewish people do not have ancient ties to Israel, and that Jews stole the land from indigenous Palestinians. Sophomore Ben Samek commented at February's Board meeting.
"The rise of antisemitism only creates a better environment for harmful ideas to thrive," Ben said. "It's unfair for MVLA, in charge of teaching me and other children, to advocate for a program that hates me for who I am."
Members of the District in charge of the Ethnic Studies curriculum deny allegations of antisemitism in the course. 
"This department is dedicated to combating antisemitism in all its forms," Mountain View High School social studies department coordinator Nathan Bowen said. "Any way to promote antisemitic ideas, either unintentionally or intentionally, has no place in an MVLA social studies course, especially Ethnic Studies."
The District has also denied that its curriculum is intentionally divisive.
"The integrity of the teachers who are putting the Ethnic Studies course together have been questioned, and that's unfortunate," MVLA Superintendent Nellie Meyer said.
"This is a homegrown MVLA course," Board President Phil Faillace said. "It's from our teachers who have a superb reputation for caring deeply about their students, and being very fair and working hard to present all sides of the issue."
"We knew we weren't going to adopt the generic State curriculum by default," Ethnic Studies teacher Roger Kim said. "We've gotten inspiration from it, but most of our work was coming up with a curriculum that we felt an Ethnic Studies course should have, and then embedding lessons that reflect students in our community." 
To clarify how Ethnic Studies is being taught at MVLA high schools, a website dedicated to MVLA's Ethnic Studies course was created on the District website to elaborate on the curriculum lessons. The page strives to act as a hub of information and to dispel myths about the course.
 "We hope this website, though certainly not a panacea, will be a place where people can go if they have a question to see what we're teaching," Meyer said. "It's not a secret, and it's important."
During the March Board meeting, several MVLA parents, many students and staff spoke at the Board meeting in support of the current Ethnic Studies curriculum. Freshman Ever Kershaw commented on why they think maintaining the current curriculum is important. 
"We're not saying white people are terrible; we are just showing the aspects of the community that aren't talked about as much," Ever said. "Sometimes justice can feel like discomfort or oppression to oppressors. Sometimes, that discomfort means that the oppressors are learning."
Leave a Comment