Mr. & Mrs. Water Polo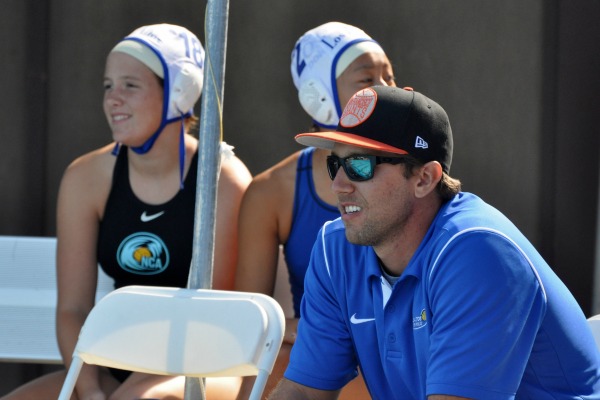 On and off the pool deck, Katie Buzzetta and Seth Tasman have created a close-knit family with boys and girls of all grade levels at Los Altos. Their upcoming marriage this May serves not only as a celebration of their commitment to each other but also to the family they have built as the head coaches for Los Altos Varsity water polo and swim. They have steadily become a second set of parents for over one hundred students at Los Altos.
Their desire to see their players progress year after year continues to keep Buzzetta and Tasman involved in the Los Altos aquatics program. Not only do they want to shape players into better athletes, they also enjoy watching and helping their kids grow up as people over the years.
"It's not just walking on deck and dealing with the same kids," Buzzetta said. "You really get to know their lives and you really start to care about them on a personal level. You build a connection, not only through the sport but through seeing them grow and mature as an individual and character."
Many of Buzzetta and Tasman's players feel the coaches have helped them become better at their sport. Prior to their arrival at Los Altos, new coaches were shuffled in and out of the aquatics program every year. With time, these coaches have rebuilt the program and established relationships with the players, their families and other staff at Los Altos.
"If you have trouble with a certain technique they're willing to put in a lot more time to help you get better with it and master it," junior Chris Yip said. "I feel like they really care about how well we do in water polo. They really do want to see you improve and that's really nice."
Since they became coaches, the Varsity girls water polo team have won the De Anza League championship and has consistently ranked as one of the best teams in the league. Along with helping help their kids succeed in athletics, they also try to make their athletes feel like part of a family.
"It's very hard for the athletes to have a different coach every year for their entire school career," Tasman said. "Before I took over the girls program [at Los Altos] there was literally a different coach every year. By having the same coach, the kids know what to expect day in, day out… Everyone knows and understands what our collective goals are and what we're going to do as a unit to achieve those goals."
Going past the typical coach-athlete mentorship, athletes have noticed and appreciated that Buzzetta and Tasman put in effort to bond with them. It is this reliability to be there whenever their athletes need it that makes their players feel like they are part of a family.
Whether it's to talk about water polo or just get something off their chest, their players feel comfortable knowing that their coaches will always be there for them.
"Katie [is] definitely one of my biggest mentors in high school," sophomore Kayley Gould said. "Especially with my shoulder [injury] last spring, I would find myself coming to her for advice before anyone else, and she is always very supportive and willing to accommodate to each person's needs. Not only can I go to her for advice on sports or injuries, but she also advises us on how to manage our schedules, and she understands how much stress we have as high schoolers."
"Seth has been my coach for three years, and we have grown very close," senior Ryan Fisse said. "I have eaten with him, traveled with him and even ridden in a car with him for hours. In all that time, we have connected in a way I've never felt before with other coaches. Seth knows when to be serious and when to have fun, and perfectly combines these to make my time playing water polo so much more satisfying."
Buzzetta and Tasman emphasize the importance of commitment and consistency for coaching — but the most challenging aspect of coaching is often motivating players to truly commit to such a rigorous sport.
But, as former players themselves, Buzzetta and Tasman understand that athletes have commitments other than sports but still feel that a player's full devotion to the sport makes the experience more rewarding for everyone involved. These coaches try to make communication with their athletes a priority and make sure everyone is making strides. Individual and team improvement is what motivates Buzzetta and Tasman and boosts team spirit and chemistry.
"With how much time these kids are putting in the water, [team chemistry] kind of comes along with the territory," Buzzetta said. "We're having morning practice, afternoon practice, bus rides over to games. These [kids] are together for a long time so I feel like it's natural that they're going to be a little bit closer. When you put a hard swim set in front of them, it's overcoming those challenges that really helps build those bonds."
When it comes to commitment and coaching, Buzzetta and Tasman present themselves as exemplary examples of what happens when coaches commit to creating a genuine relationship between coaches and athletes.
"It's something that we're both very passionate about and to have someone that you can bounce ideas and plays off of who really pours their heart and soul into this sport is really inspiring so it keeps me very interested and engaged in it," Buzzetta said. "Together we're stronger than we are if we were just separately coaching."
Leave a Comment