Mountain View institutes RV parking restrictions
After months of deliberation, the city of Mountain View is moving forward with a large-vehicle restriction, which bans RVs from parking on "narrow" streets less than 40 feet in width between 2 a.m. and 6 a.m. The Mountain View City Council passed the ordinance with a 4-3 majority on Tuesday, October 22. This legislation is paired with a safe parking program proposed by the city, which would provide temporary lots where RVs can park after the restriction goes into effect January 1, 2020. 
The Mountain View City Council cited health and safety concerns as reasons for supporting the new ordinance. RVs have reportedly obstructed cyclists's and drivers's sight while turning onto streets and pulling into intersections. They also claimed that sewage generated from those living in large vehicles has caused further issues, since RVs often have septic tanks but no place to dump the sewage.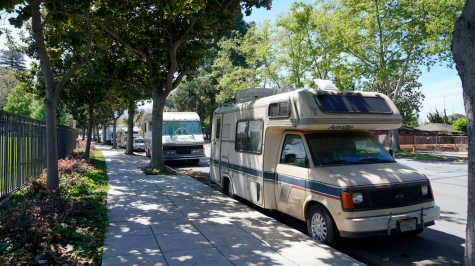 "The waste has to go somewhere, and some [people living in RVs] were actually dumping human waste into storm drains or out into the street,"  Mountain View communications coordinator Shonda Ranson said. "Our parks and street team, who normally clean up leaves, had to get hold of a specialist because they were not equipped to handle human waste."
Many members of the public who attended city council meetings to speak on the subject didn't agree that a parking restriction was the answer to the concerns presented. A public commentator and resident of Shoreline Boulevard—a common parking spot for RVs—believed that City Council could have found solutions to let the RVs stay and provide other means of affordable housing while solving the safety and traffic issues. The man described himself as a frequent biker, and said that the RVs had never obstructed his sight. He stressed the importance of coming up with a housing solution for those living in RVs, which the city is attempting to address temporarily through the expansion of safe parking programs.
The safe parking program paired with the ordinance would provide public spaces for RVs to park at night. Mountain View is looking to expand current safe parking programs, which have been running for more than a year, but take only four-door passenger vehicles. At full capacity, this new safe parking lot should be able to hold up to 80 residential vehicles, but the city has expressed concerns about expanding further.
"We're getting up to the point where funding is a restriction," Ranson said. "So at this point what we're really hoping for is for [organizations] to come up and offer space for parking."
The safe parking program will remain in effect until Mountain View's housing state of emergency is over, which was declared in June by the Mountain View City Council due to the high number of residents currently living in their vehicles. The safe parking lots will not be permanent, as their goal is to get people on a path to permanent housing.
Executive Director of the Community Services Agency (CSA) Tom Myers also believes that safe parking programs would be the best option for those living in RVs. CSA is a nonprofit that works to help those who are homeless or at risk of homelessness. CSA is working with the city of Mountain View to repurpose frequently vacant and unused lots for safe parking programs.
"One of the most exciting ideas [for safe parking programs] is a winter program in Shoreline Park," Myers said. "Lots where concerts take place are kind of just sitting there vacant during winter time, and there's thoughts of using those [to house RVs] beginning next month."
While some organizations with large lots have offered up land for safe parking, including two churches, Myers wants to expand the program to other faith communities. There is also a plan in the works in the Mountain View Whisman School District that would allow families of the district to park on school lots.
Though safe parking lots would serve as temporary spaces for RVs and their owners, both Myers and Ranson stressed that getting RV owners off the streets and into permanent homes is the ultimate goal. 
"The city has invested 2 million dollars in [safe parking programs]," Ranson said. "The county has too; we've put a lot in already. The next step is to put people back in housing."