Mountain View High School Oracle Sparks Controversy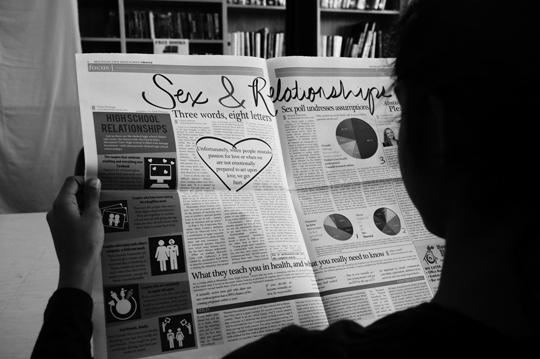 Recently, the Mountain View High School (MVHS) newspaper, Oracle, published their annual coverage of sex and relationships. This year, the center spread was met with increased concern by parents, causing the articles to be on the radar of not only student readers, but also members of the school board.
Before publishing this piece on sex, Oracle published a series of articles on student drug use. Both the articles on sex and on drugs became a concern to several parents at the high school along with various other members of the community. These parents along with writers from Oracle came together to express their points of view at a recent board meeting where they presented concerns and thoughts to the board.
"It's important for the students of the paper to understand that the parents didn't come to shut Oracle down, or that that was even their hope, or even that every article was bad," parent Christy Reed said. "I think it's more that there was some thoughtful editing that could have taken place that didn't, especially for an audience that starts as young as 13."
Parents of Mountain View students spoke at the most recent board meeting expressing this concern. Many feel that exposing students as young as 13 to sex was inappropriate and contradictory to the morals they are trying to instill in their children. For this reason and others like it, parents believe that it is important that parents have the ability to further guide student writers before publishing.
"What I would hope would come out of [parents expressing their concern] is that there would be just a little bit more oversight on the paper," Reed said. "I think that on Oracle, there is just one adult that reviews the paper before it goes out and I think in the professional world, there are many iterations of review, and so I think it would be helpful to have more than just one adult look at the paper before it goes out."
This idea of extra adult oversight and possible censorship brings in bigger legal implications. This is because there are multiple Supreme Court cases as well as California Education codes that set up protections for student journalists. In order to put additional controls on the paper, the board would have to weigh these legal concerns.
"A big part of that is going to be legally, what are students' rights and what is the public's right and what legally can be done," Clerk of the Board Susan Sweeley said. "And in my opinion, I think freedom of speech holds true. I think it was well-written and written responsibly. I think it didn't need to have quite so much emphasis on sex, but I respect kids, so I usually support it, as far as I know right now."
Student writers, on the other hand, argue that despite some ill-worded sentences within the piece, the articles were well-researched and overall, well-written.
"As a class, we do not believe that 'the line was crossed,' mostly because that line alters depending on the reader." Oracle co-Editor-in-Chief Michelle Rubenstein said, "It became evident that certain words caused readers to become uncomfortable and others…were viewed as unnecessarily "crass". While we understand that some wish we hadn't published articles about sex catered toward teens at all, our goal was to educate and essentially translate the information we receive in health class to more understandable terms…We do not believe that a definite line exists to begin with."
Students feel that the parents' concerns could have been better handled differently, rather than how it was presented at the school board meeting.
"I am glad that people are voicing their concern," Michelle said. "I wish, however, that they were voicing them to us because we excel in response to constructive feedback and criticism. At the end of every issue, we reflect on the paper and the content, and we invite guests to come and constructively criticize and give us good feedback. I wish they had done it in a more constructive way and were doing it for the good of the community instead of taking it to the school board and jumping into legal concerns."
Yesterday, March 11, at the regularly scheduled school board meeting, the two schools' journalism programs were on the agenda. This meeting came after The Talon's press deadline.
"I believe in freedom of speech and that it's a student newspaper written for students and as long as it's factual and it's not trying to shock people with irresponsible kinds of articles, I am okay with it personally," Sweeley said.
Some board members put forward the idea that this type of situation does occur, and when it does, it must be dealt with not dwelled upon.
"Let's learn from it, let's move on," Superintendent Barry Groves said.
Leave a Comment