Mountain View defeats Los Altos in first wrestling dual meet
In their first dual meet of the season, the Los Altos wrestling team lost to Mountain View on Thursday night.
Wrestling meets have one match for each of the 14 weight classes. However, Los Altos's small varsity roster—just 7 athletes—meant they had to forfeit half of these matches, and Mountain View had essentially won before the meet even started. Additionally, because they were lacking members, the wrestlers who were present had to compete against opponents in weight classes heavier than themselves. Senior Tyler Kim says that even a 10-pound weight difference can determine the outcome of the match.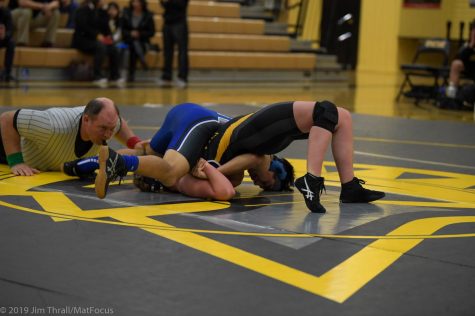 On the mats, Los Altos wrestlers competed well, given the circumstances. Los Altos won three of their seven varsity matches, and two of three JV. Still, many wrestlers also failed to execute during critical opportunities. Head coach Jim Thrall and team captain junior Sam Nath attributed this to hesitation in the wrestlers' mentality.
"We get into a move, then we just sit there and we think," Sam told the team in a post-game huddle. "Don't think, 'Oh, what if I get flipped over.' You gotta think, 'How am I gonna flip him over?"
The effect of this mentality was that instead of working the progression of one move, the wrestlers got flustered and shifted their strategies too frequently.
"[You get] all excited when you're in the top position and you try one thing," Thrall told the team after the meet. "[But] that's not perfect, so you go to something else, and you go back to the one thing, then you go to something else. Stick to one thing."
Los Altos' performance on Thursday night was not for a lack of preparation: the team has been practicing these moves since off-season practices in December. Rather, it may come down to the athletes not trusting their instincts.
Coach Rafael Garcia, the new assistant coach, also attended the meet. From the sidelines, the coaches are able to see moves that the wrestlers might not be able to and shout corrections throughout the matches. They then briefly debrief with individual wrestlers after their respective matches end. Giving immediate feedback helps the athletes understand what they did well, and what specifically to improve on.
On Tuesday, January 14, the wrestling team will hold their next meet at home. They will also be holding an alumni night, where graduated Los Altos wrestlers will come to meet the wrestlers and share words of advice. Attendance is open and encouraged.