Mock Trial Establishes Foundations for Next Year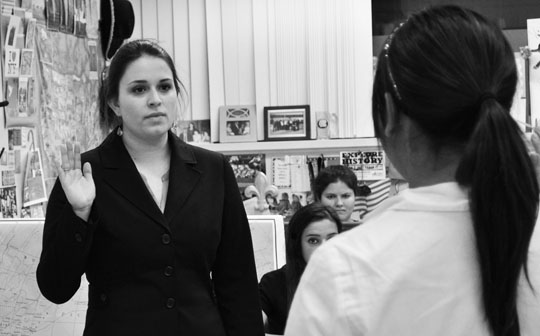 The Mock Trial team ended its season with a record of 1-3 in the Santa Clara County Mock Trial Competition on Thursday, February 16. However, despite its loss in the toughest county in the state, the team has made progress and improvements.
"Even though we didn't win and move on to finals like we had hoped, we did really well in building a strong foundation for next year," Mock Trial President senior Yasmeen Serhan said. "I have no doubt in my mind that they will move on to finals next year, like there's no question."
Yasmeen's belief in the team's ability next year is based off the way the team handled itself this season.
"Prosecution did their best performance yet and defense was just stellar, " Yasmeen said. "Our witnesses have just been the best that I've ever seen them. Jurors would point them out, and say, 'that was great and amazing, I would've believed you.'"
Freshman Anneliese Gallagher, whose performance was commended by both Mock Trial advisers DeeDee Pearce and April Fritz, played the role of the murder victim's best friend.
"I had to cry on cue on the witness stand," Anneliese said. "I tried a number of things like not blinking and pinching myself. It took a lot of practice, but I was able to do it eventually."
However, being a witness is not just a test of acting ability.
"I had to know my witness statement really well for cross examination," Anneliese said. "[The other team] could ask me any question that appeared in my witness statement."
Mock Trial requires a thorough knowledge of both the case and individual statements.
"In the beginning I thought it was just all acting, but it's actually really like being a real lawyer, especially when you get into the courts," sophomore Derrick Lu said. "It's a lot more intense than it sounds like. It's not acting at all; it's more like actual law."
This year was a rebuilding year for the team. Many members were new to Mock Trial and only 4 of 18 members were returning to the roles they had played last year. The few other veteran members were assigned to different roles such as trial attorneys and witnesses. As a result, going up against more experienced teams was a learning experience.
"There was a lot of growth that occurred," Pearce said. "They got better in public appearance, speaking and closing statements. It's pretty impressive to get them in front of everyone, work the court, speak and be passionate."
In addition to improvements in those fields, Pearce also said that the students have improved in their ability to think quickly on their feet and react appropriately, a key challenge in Mock Trial.
"It's kind of like chess," Yasmeen said. "You have to be two steps ahead of the other person … and if you're really clever, you can discern certain facts that aren't clearly stated."
The team plans on continuing to work on objections through practice, organization and focus. Increasing the interaction between the prosecution and defense teams to pick each other's brains on their respective cases is also something the team will work on next season.
"We worked hard all year," Fritz said. "But it was tough to maintain momentum throughout the year, so we're planning on having more meetings during competition time to keep that cohesive momentum."
Despite not advancing further this season, Pearce and Fritz are both still proud of what the team has accomplished.
"It looks easy when you watch it on video and hear about it, but it's not easy when you walk into an actual courtroom with a real judge," Pearce said. "When you're performing, it takes on a whole different feel."
Leave a Comment