Mid-Season Update
Football
By Julia Son-Bell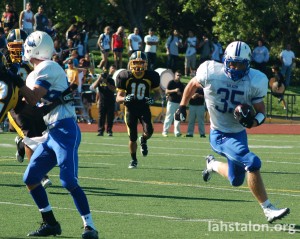 The varsity football team has gone undefeated so far this season. The team has won every game except against Santa Cruz on Friday, September 24 which ended in a tie.
However, injuries have hindered the varsity team. Specifically, starting quarterback sophomore Steven McLean injured his throwing wrist at Santa Cruz He hopes to return by the homecoming game on Saturday, October 30.
Second-string quarterback junior Todd Grimm's concussions forced senior Martin Aycott to step in as quarterback at Santa Cruz and Mountain View, leading a last minute comeback to tie Santa Cruz 27-27, and handily defeating MV 28-14.
"I was surprisingly comfortable," Martin said. "Coming in playing quarterback as a wide receiver, I knew where to place it for receivers. Like the connection I have with McLean, I can develop that with my receivers."
Todd's recent recovery allowed Martin to return to his original receiver position against Monta Vista, a 38-19 win on Friday October 8.
"A good quarterback is a quarterback that can produce points and win games," Steven said. " Martin and Todd are those type of quarterbacks. They produce the points needed and extra to come out on top."
Other notable injuries include a twisted ankle to leading running back senior Jason Lopez, and a separated shoulder suffered by wide receiver senior Joey Giacomini. However, the injuries have not kept the Eagles from dominating.
"This year our team has suffered a few key injuries, but I think it shows how ready our whole team is to play in every game," Steven said. "I'm not concerned [with injuries], especially with how well our defense is playing."
Opposing offenses have averaged just 13 points.
"The defense has been great all year," head coach Bill Waggoner said. "[Its] very aggressive and [good at] blitzing. We have two really good linebackers, seniors [Tyler] Stout [above] and [Jason]Lopez and defensive ends junior Nolan O'Such and senior Daniel Tangi. [junior linebacker George] Schneider (3 sacks) was great against Mountain View."
Above all though, Waggoner attibutes the success of his team to its character.
"The team plays with a lot of heart," Waggoner said. "Expectations are high. Other teams are surprised by how hard and fast the team comes out."
Tennis: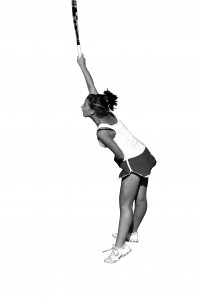 By Katie Gonsalves
The varsity girls tennis team lead by coach Hung Nguyen is halfway through its season with a De Anza Divsion record of 5-3. The team is looking to take third place and hopefully sneak into CCS. They're only losses have come against Monta Vista and Saratoga, the two best teams in the league, and Gunn High School in the first league match.
However, in their second match against Gunn, they defeated them 4-3. The team had many seniors last year, so it has been a welcome surprise for Nguyen to see how well they have done.
"In my opinion we're over achieving, [because] we lost nine seniors to college last year." Hung said. "We should be one place higher [than last year] if we place third this year."
In the rest of its games, the team hopes to defeat all its opponents except Monta Vista and Saratoga to take third. The number 1 singles player is freshman Kacey Incerpi and the leading doubles are juniors Alice Carli [left] and Ali Dyer.
Field Hockey: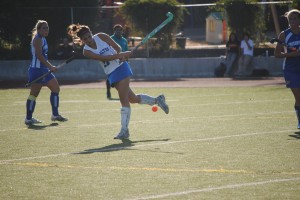 By Katie Gonsalves
The girls field hockey team is pushing itself through a tough season. Led by captains seniors Teresa Fabbricino [right] and Erika Schonher the team is composed of just 17 players and has struggled for wins.
"We're in the top division for our league so it's always a challenge, especially when we're playing both private and public schools," coach Mary Donahue said.
Unlike LAHS, these top schools, such as Los Gatos and Gilroy, enjoy the advantage of year round, club team players.
"Not many of our players play in the off-season like the other teams, so we learn as we go along," Donahue said, "We try to improve in the second half and build up wins."
True to the coach's word, the team has improved recently. In their past four games the team has defeated Leigh and Saratoga high schools 2-0 and 1-0, while narrowly falling to Archbishop Mitty and Presentation High Schools 1-0.
"We've improved a great deal these past weeks," Donahue said. "Overall our defense is playing really well. I'm pretty pleased with the way we've been playing and we're working on scoring more."
Cross Country:
By Julia Son-Bell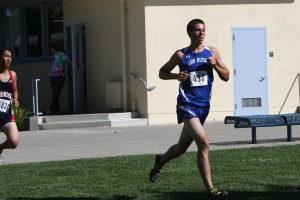 The varsity boys cross country team is ranked 4th overall in all of CCS. The team is composed of a tight-knit group of upperclassmen that trained rigorously over the summer.
"I owe my improvements to summer training and an incredible coaching staff," senior Blake Bowers [right] said. "The cross country team has become my second family."
Blake decreased his average mile time from 6:22 last year to 5:33 this year, and the entire team has improved as well.
"A lot of it has to do with depth," senior Ben Schneider said. "We have people close behind [the top runners] …. five people get into the top ten [at a race]."
However, the varsity girls squad has not been as successful. The team has had trouble recruiting athletes from the other fall sports at the school and club teams. In addition, they lost their two best runners from last year, Erin Hicks '10 and junior Serina Rye who is not running this year.
A significant percentage of the runners are sophomores and have little experience on the cross country team. In addition, not as many ran in a group over the summer.
"You can't get in shape in five to six weeks," head coach PattiSue Plumer said.
However, the fact that the girls varsity team is young also gives the team a lot of potential to improve over the course of the year, and later in their high school careers.
Volleyball:
By Sparsha Saxena
This year the majority of the team isn't just composed of upperclassmen. a big component of the team has been the freshmen and sophomore players, making this year's team more diverse than previous years.
"[The team needs] to gel better together" said coach Jason Kennedy. "There are so many new players this year."
Kennedy said he is anxious to see the team continue to use its rapidly growing skill the next half of season. Because their are so many new players, the team is learning from its mistakes each game and becoming a stronger team.
"I think that the team is improving our game every time we play," sophomore Natalie Dwulet said. "For being such a young team and with many of the starters not having played with each other before, I think we are really growing as a team."
Natalie said the "amazing" freshmen are constantly showing the team that they are ready to help. She said they contribute to the team "every second they are on the court," making them an essential part of the team.
The freshmen players are Hanna Koehler, Meghan McDermott [right] and Katie Tritschler.
"This is the game that made me realize how much potential we have, because we won by coming back from a huge hole in the 3rd game," Hanna said. "[We] beat the other team by [using] our energy coming from the court and the bench."
Leave a Comment