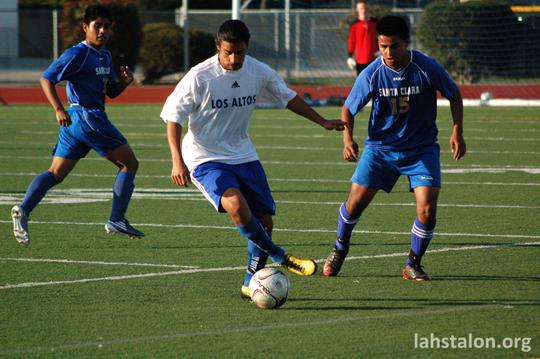 Boys Soccer
5-1-2
With a record of 5-1-2, boys varsity is holding up to its expectations.
Story continues below advertisement
"We're only one game behind Mountain View [high school], the first place team," varsity coach Vava Marquez said. "From here we just need to take it one game at a time,"
senior midfielder J.J. Jimenez [left] follows up, saying "This season has been superb. The hype is up and we're looking way better on the field."
After making some changes to the playing system to adjust to this year's players, Marquez said, "We attack with more balance."
The team, which has gone 4-0-1 since their only loss of the season to cross- town rival MVHS, has primarily improved its defensive play though. Earlier in the season, including their 0-3 loss to MVHS, the team played both offensively and defensively with a 4-4-2 formation (4 defenders, 4 midfielders, 2 forwards.) However, now the team drops to a 4-5-1 formation when on defense, applying more pressure.
The winning streak the team has enjoyed recentely has led to sky-high expectations.
"Our main expectation should just be to crush every team we play from here on out," J.J. said.
According to senior defenseman Josh Okero, a veteran of the team, this year's squad has the potential to do as J.J. says.
"Two years ago I was on a team without a lot of chemistry, and last year we didn't have the potential to go all the way," Josh said. "This year is the perfect balance. It's a mixture of chemistry and seriousness towards games. We all have a common goal."
The team will have had a chance to avenge their loss on Friday, Febuary 4, when MVHS travels to LAHS for their second game of the season.
"We're going to scrape," senior defender Abel Kinard said. "We have the triple 'C'; cool, calm and composed."
The Eagles are assured a CCS berth, and the winner of Friday's game is expected to finish the season in first
"We're the best team in the league, we just have to prove it," Josh said.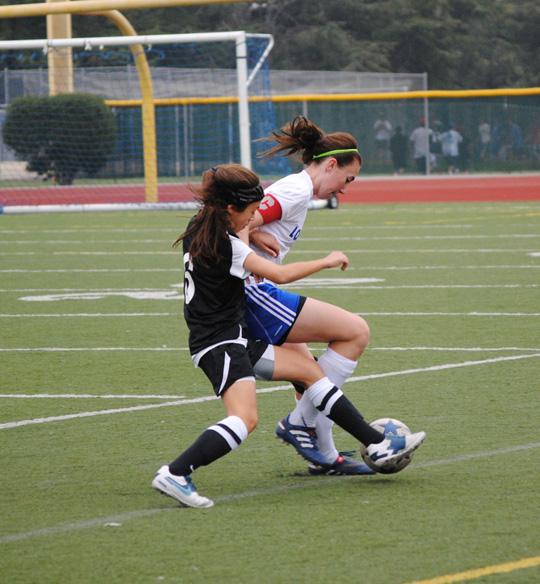 Girls Soccer
2-4-2
With a current record of 2-4-2, girls varsity soccer is proving to have a much more successful season than expected. Despite restocking the team with young talent, as four more freshmen joined the team this year, it seems that the growing pains the young team endured last year have led to valuable lessons.
"This season we have more possession and better skills. We've finally been able to find the back of the net," sophomore defender Audrey Mays [left] said.
Sophomore Sydney Carr, who also played last season, said, "I think we're playing better as a team. We look to play the ball more and pressure really well."
Audrey and Syndey are two of seven total sophomores on this year's team, many of whom endured last years win-less season. However, despite their inexperience, the younger players have definitely stepped up.
The goals in their 2-1 victory over Palo Alto were scored by sophomore Izz Lefebrve and freshman Julia Goupil. Then, a week later on Friday, January 28, freshman Katarina Drake had an assist and a goal in their 2-0 win over Gunn.
"New players have been a lot of help," Audrey said. "Kat has been really great up top and Jules is a utility player who really impacts the team."
The fairly successful start to the season has led to good feelings for the team, especially compared to last season's losing streak.
"We've had a lot of really high energy, and we've been really positive," Audrey said. "Getting a good start in the beginning of the season has given us the confidence that we can play well. Hopefully all the hard work will pay off in an awesome season."