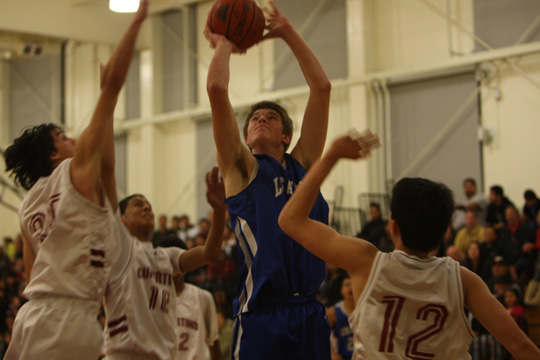 Boys Basketball
2-6
After making it to the second round of CCS playoffs last year, this year's boys basketball team is currently struggling in the dregs of the De Anza Division. To make it to CCS, the Eagles need to have a 6-6 record, and therefore need a miraculous 4 game winning streak in their last games of the season to make the playoffs.
Story continues below advertisement
Though the Eagles have suffered recent losses to Cupertino, 30-49, and Palo Alto, 40-59, the Eagles still have hopes to make it to CCS.
"We might make it to CCS," senior Scott Yuan said. "It's still definitely a goal, but it's not looking so good right now. It's going to be really hard [and] we're going to be playing against some really competitive teams."
Although the Eagles had previously beaten Cupertino, Cupertino now has five straight wins, and all of the teams in the tough De Anza Division League are similarly competitive.
A variety of reasons are attributed to the Eagles' first half struggles.
"The team chemistry is sort of off," senior Derek Breaux said. "And it's been tough. We've lost a lot of players, and our losses are not exactly disappointing, it's just that the team could do a lot better."
Scott added that some of the adversities the team faces are not because of strategy but due to a lack of availabile players.
"Our roster is not that big this year," Scott said. "We only have 10 people and so as the game goes on, it gets tiring and challenging as we can't really rest."
However, the Eagles have not lost sight of a CCS berth.
"We're always trying to get better, always trying to improve at the end and turn the season around," Derek said. "We cannot go into games with the mindset that we are going to lose."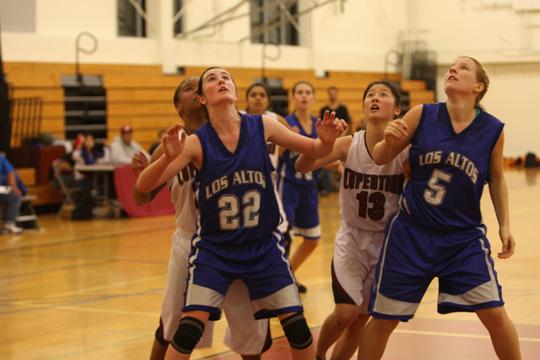 Girls Basketball
1-7
The girls basketball team has had a tough season. However, on Friday, January 28, the Lady Eagles won their first game of the season against Cupertino, 41-39.
"It was a long time coming," Head Coach Keith Mims said. "I'm really happy for the girls and it is a good way to start the second half of the season."
Senior captain and center Jordan Hamel [right] attributed the win to the new cohesiveness of the team.
"We finally came, worked and played together as a team rather than individuals," Jordan said.
One telling figure that showed the Eagles' improvement was rebounding. They normally average 45 rebounds a game but against Cupertino hauled in 56.
"We need to continue doing our best and improving in small areas like rebounding and shooting and let whatever happens happens," Mims said.
Mims hopes an increase in these areas will lead to an increase in wins in the second half.
"There were only a couple of teams that we lost to in the double digits," Mims said. "I feel the team is capable of beating some of the teams the second time around and maybe even making it six wins to six losses."