Megan Liu (Sugar Plum Fairy)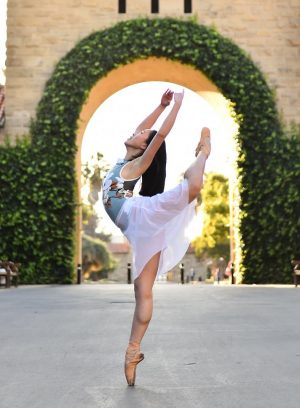 Ballet is the gift that keeps on giving for senior Megan Liu. From allowing her to travel the world to providing respite in the midst of life's inundating stressors, ballet has been with Megan since she was four years old.
"I was initially put into dance by my mom since I always seemed to be jumping around," Megan said. "Since then, I've stayed in ballet because of the friends I've made and the experiences I've had."
With numerous extracurriculars including debate, TEDxLAHS and Blue Ocean Entrepreneurship, Megan uses ballet has become an invaluable way for her to de-stress.
"Ballet has always felt like an escape from all the other stressors since it's a place where I can only focus on one thing," Megan said. "Even if it means that I lose out on time for other things, it's just a really great experience to be in the studio and to really work that hard and to see results."
Throughout her years of training, Megan has also been able to build some of her strongest and closest relationships.
"My closest friends are definitely in ballet because we share the same passion and spend so much time together, whether it be during class or rehearsals," Megan said. "We've also definitely suffered together, which always brings us closer."
In addition to friendships, ballet has also given Megan international opportunities to perfect her craft.
"I participated in a summer program with the Estonian National Ballet and a bunch of professional and pre-professional dancers from across the world to prepare a two-hour-long gala in three weeks," Megan said. "It was a great opportunity to rehearse and perform in a professional setting."
As such, it's no surprise that Megan is playing the role of the Sugar Plum Fairy again. But even after having accomplished so much in the dance world, the Pacific Ballet Academy's annual Nutcracker performance is still special.
"It's sort of a staple in my life now," Megan said.