Tucked behind the football field, across the portables, sits a cozy garden overflowing with fruits and vegetables in bloom. Throughout the day, newly appointed Science Department Coordinator Jacob Russo waters and tends to the various plants in it — basil, broccoli, cauliflower and much more. While most know Russo best in the classroom or lab setting, his green thumb reveals another side of his dedication to nurturing both knowledge and nature.
Russo's career in the sciences began early — after graduating with a Bachelor of Sciences in biopsychology from the University of California, Santa Barbara, he served as a paramedic in Ventura County for six years.
"The most fun thing I did was volunteer on a county sheriff's search and rescue helicopter," Russo said. "We mostly just flew around, but occasionally we'd be needed for help, and those were always very exciting."
But after driving an ambulance around all day and working in demanding emergencies, Russo's career soon changed directions. In 1999, Russo moved up north to Santa Cruz County and took up teaching full-time at Watsonville High School, where he taught all levels of biology for seven years.
Story continues below advertisement
Finally, in 2013, Russo began teaching at Los Altos High School and has since taught Advanced Placement (AP) Biology, Biology Honors and Biotechnology. Three years ago, he started teaching Agricultural Ecology, where he first picked up gardening.
The class features hands-on work in the LAHS garden, with a curriculum that focuses on both planting and harvesting crops — students learn to germinate seeds and track their seedlings as they grow — as well as managing a sustainable garden.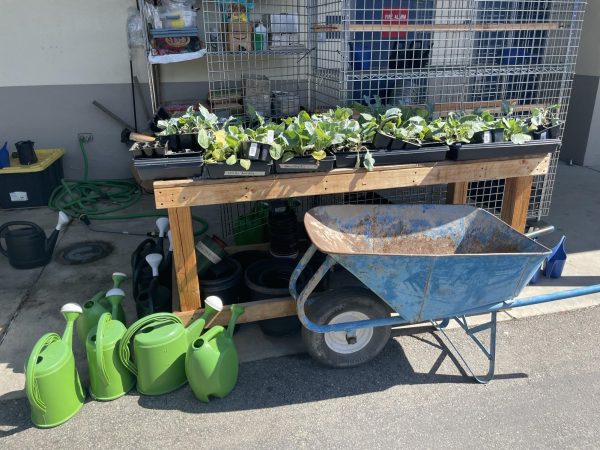 "The class takes place half in the classroom and half in the garden," Russo said. "We work hands-on in the garden, and in the classroom, we focus on biodiversity, reducing waste and maximizing the amount of yield we can get out of a small space."
The class isn't all work with no reward; harvesting happens frequently, as fruits and vegetables are planted and gathered year-round. Whether it's tomatoes, corn or an assortment of beans, the class produces nothing short of a perfectly fresh and organic snack.
Beyond school hours, Russo's passion for the class continues. Last summer, he and Agricultural Ecology teacher Benjamin Walker visited the LAHS garden weekly to check on their plants and plan for the new semester. 
Other than his aptitude for working in the garden, students pointed to Russo's open-mindedness and lighthearted attitude as his most notable qualities.
"Mr. Russo learns with his students," former Agriculture Ecology student senior Beckham Wise said. "He's not afraid to correct his own mistakes, and he really cares about his students and helps develop their interest in agriculture. Last year, many kids signed up for the class thinking it would be an easy A, but Mr. Russo's teaching style allowed everybody to enjoy learning something new."
"Mr. Russo is such an optimistic teacher," sophomore Albus Xiao said. "He's very encouraging and willing to help us — even when things get hard, he'll crack a joke that makes us all laugh and lighten up the mood."
Following nine years of teaching at LAHS, Russo was appointed as the new science department head this year, following former science department head and chemistry teacher Darren Dressen. 
In his short tenure as department head, Russo has already made many changes to the program. Along with overall changes to the curriculum of lower-level science classes to better prepare students for more advanced courses, Russo is directly involved in managing the department's budgets.
"When we, as a department, get our funds, Mr. Russo deals with how we're going to spend it and utilize it for students," Dressen said. "He's considerate of what everyone needs, and he's always looking for new ways we can do labs or use equipment that are more advanced." 
Along with his work as department head, Russo works to support his colleagues and students in his role as a teacher. He prioritizes creating strong relationships with his peers and fostering an enjoyable learning environment. 
"Mr. Russo's definitely a people person, and I have so many fun memories with him," Dressen said. "One time I was coaching baseball, and he went out of his way to stay after school and watch our game. It was kind of to make fun of me, but I knew that Russo's always rooting for us. He's truly everyone's — both his colleagues and his students — greatest supporter."