Matzah Ball Soup
December 12, 2021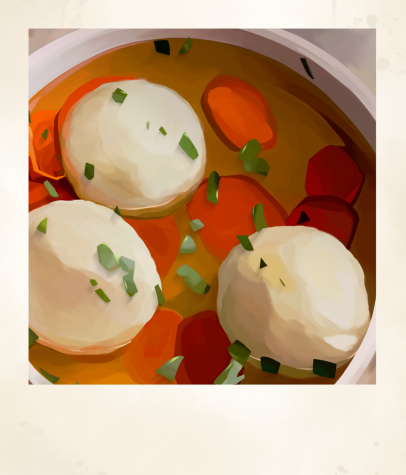 Matzah ball soup is a familiar staple among Jewish families during Passover in the springtime, but the dish also delights junior Mallory Weisfeld and her family around Hanukkah as they kick off their holiday season.
Traditionally composed of chicken broth, matzah balls, root vegetables and a variety of herbs, matzah ball soup is not only time-honored and delicious, but versatile — ingredients such as the broth can be adjusted depending on any dietary restrictions.
"Matzah ball soup symbolizes the coming together of family and joy that happens every holiday season," Mallory said.
Ingredients (Soup):
1 Amish chicken (skin-on), whole or cut up
6–7 medium carrots
2 large onions
1 bunch dill
1 bunch parsley
3–4 parsley roots
1 tbsp. black peppercorns
Kosher salt to taste
Ingredients (Matzah balls):
1 cup matzah meal
4 eggs
1 tsp. baking powder
1/4 tsp. salt
1/3 tsp. pepper
3 tbsps. melted shmaltz (chicken fat) or vegetable oil
1 tsp. minced fresh dill
Instructions:
Wash out the chicken, place it in the stockpot and cover completely with cold water. Let it simmer until fat starts to rise, then continue to simmer for another 25 minutes.
Peel and cut the carrots, onions and parsley roots in half. Wash dill and parsley.
Dump the broth out into a large colander. Rinse the fat off the chicken and pot.
Place all the veggies, parsley, dill, chicken, salt and pepper into the pot. Cover the soup ingredients again with cold water and let the soup simmer on medium-low for about two hours.
Combine all the ingredients for matzah balls in a large bowl. Add minced dill for enhanced flavor and color.
Mix the matzah ball mixture with a spoon until smooth. Place the mixture into the fridge for 20 minutes.
Fill a pot of water with salt and bring it up to a boil on the stove.
Use a little ice cream scooper (or spoon) to scoop the mixture into your hand and then roll the balls out, placing them on a plate
Drop them into the simmering pot carefully, one by one. If you want dense and heavy matzah balls, boil them for 25 minutes. If you prefer airy and light matzah balls, boil them for 35–40 minutes.
Turn the stove down to a simmer. Cover the pot and let them cook for the time set. Once they are finished, the matzah balls can be served immediately with the soup or cooled completely and stored in the refrigerator.
Add salt to the soup if needed and serve the dish with matzah balls, the cooked vegetables and pieces of chicken with another sprinkling of dill on top.