In a flurry of festive shirts and skirts, the Matsiko World Orphan Choir stole the show today, February 9 during lunch. The Choir performed a diverse set of ethnic pieces as well as a few American adaptations, drawing members of the student body into the audience.
The group, a multi-national collective with children from Liberia, India and Peru, has been touring the country, performing its cultural songs and dances for schools and other communities. In the past few months, Matsiko Choir has been up and down the West Coast, and will soon be touring in New Mexico.
"These children are the same children that will be touring the entire country," founder Don Windham said. "We are really proud of them."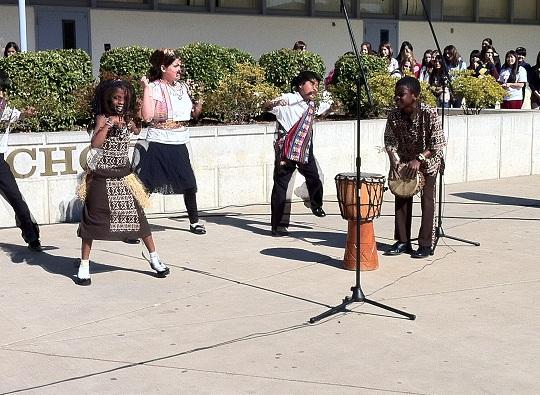 Story continues below advertisement
On top of the singing and dancing, the group sold various trinkets to the audience. The listeners flocked to the table covered with bracelets, necklaces and CDs. The profits from the merchandise went toward funding for the International Children's Network (ICC) and the education of the choir children.
The ICC is a sponsorship program that supports children in impoverished areas, and encourages and facilitates sponsorships.
After the singing, students got an opportunity to meet face to face with the performing children, bridging the culture gap with handshakes and smiles.
[Video by Mark Schreiber, Photo by Jade Hua]