Martin Acosta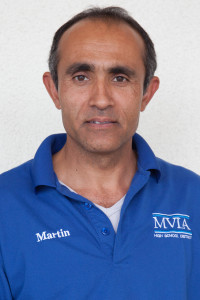 Martin Acosta can be considered a veteran among the custodial staff. His long tenure has seen him fill a number of roles, and he has filled each one with a smile.
"I love doing a bit of everything, which is probably my favorite part of the job," Acosta said. "Being able to be involved in different tasks, being able to interact with students, it's all a wonderful experience."
When asked about his favorite story at the high school, Acosta laughed and said that his "go-to" story involved students late one night.
"One night when they had just finished building the 700 building, we heard some commotion upstairs on the roof of the 700 building," Acosta said. "There was no rail- ings or safety guardrails installed up there, and sowewentupstairstoseewhatitwas. Asit turned out, there were a bunch of kids up there with scooters and skateboards on the roof. However, when we got there and called for them to come down, they panicked and actu- ally ran from us, [jumping] from on top of the roof down to the overhangs on the side [near thebackofthe]bandroom. Itwasamazing.I was surprised that nobody got hurt that night and that they [were] actually able to get away."
When he is not busy chasing down students, Acosta is occupied with running after his own four children, aged 9 to 18. Members of his ex- tendedfamilyincludehisfourdogs: arottwei- ler, chow chow mix, a chihuahua and a poodle.
Despite his hectic family life, Acosta still finds time to work out and goes on jogs before coming to work each morning. Though he doesn't play any sports recerationally, he enjoys keeping up with professional soccer teams.
"I follow the Mexican soccer teams… some- times the MLS," Acosta said. "I also like to watch any other sports…but I don't have much time to. But when I do, I go for it."
Despite his busy schedule, Acosta can be seen each day with a smile on his face.
Leave a Comment