Marching band off to strong season
(Above from left) Seniors Kailin Lu and Tessa McClintic and freshman Libbie Katsev are at attention.
Marching band began its season with a successful first competition, finishing second place in its class and third overall at Independence High School on Saturday, October 17.
"The season's been going great," Performing Arts Director Ted Ferrucci said. "We've been doing well at each performance, and we're growing into our show. "We've got probably the most technically demanding show both musically and visually if not just in Northern California then in the whole state."
Marching band has had competitions every weekend for a span of six weeks combined with an intense practice regimen to keep them prepared for competition.
"In the beginning of the year, we just study and learn the music," assisstant drum major junior Kayla Valpey said. "Then we put it with the drill. It's really hard to be moving at the same time while playing music so we have to have 12-hour-long days."
The show is titled "Awaken" and centers around the main character performed by visual soloist senior Kira Labuda.
The show follows her through a series of dreams she has that awaken her as she floats through different vignettes.
In its second competition, marching band took first place despite a score decrease.
"We had a whole new panel of judges," junior Lauren Peterson said. "So what we are going to see from now on is more consistency. When judges have seen our show more than once, they understand it, they know what they are looking for, and they can judge us more fairly and give us the credit we deserve for having such a hard show."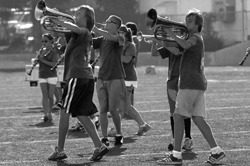 Sophomore Noah Dietz and junior Paul Fomenko march with flawless horn angles during the Homecoming Game's half-time.
This year, marching band has been faced with the challenge of training many new members.
"It's a fairly young group in many sections," Ferrucci said. "Everybody is playing a critical position and nobody sits on the bench regardless of how little experience they have."
Returning members said that they were a top ranked marching band in California and hope to achieve even greater success this year.
"Last year we were the seventh best band in California, and we are looking to improve on that," Lauren said. "The music and the drill this year has made us step it up and is harder than in years past."
Marching band performed in the stands as well as during Homecoming Game's halftime. It left shortly after to compete in its third competition of the season.
"I think the biggest strength this year is that there is a lot of great individual work going on," trumpet section leader senior Tommaso Carli said. "There are a lot of people who are giving it their best every day at practice."
Marching band has been through rigorous practices and competitions in preparation for the annual State Championships in Fresno.
"Compared to last year, the band is stronger and the difficulty of our show may be a bit more challenging," Ferrucci said. "But I think we've got a pretty good shot to do as well and hopefully a little bit better."
Leave a Comment