Mackenzie Gallego: Social worker & LAHS therapist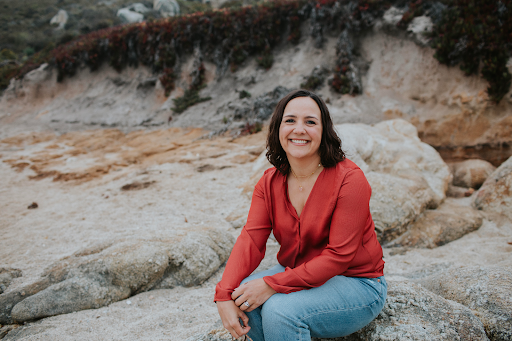 After spending her childhood growing up around therapy, Los Altos High School social worker and therapist Makenzie Gallego viewed the practice as a natural way to think about the world.  
"I found therapy to be really grounding, and so helpful for taking care of myself, understanding myself and navigating life," Gallego said. 
With two therapists as parents, she thought that becoming a therapist would be the last thing that she wanted to do. Albeit, she thought wrong. Through her role at LAHS, Gallego connects students to other therapists on campus. She also does limited therapy sessions with students. 
"I went into this work to help students gain hope when they are struggling, and renew their motivation as they take steps towards their goals," Gallego said.   
Gallego spent nearly a decade doing youth ministry outreach in East Palo Alto, living with young women from under-resourced and marginalized communities. She worked as their educational advocate and supported those with disciplinary and academic struggles. Through this experience, Gallego was able to see the ways the educational system isn't adequately serving them. 
"I was seeing life through their eyes, and the injustices they were encountering on a daily basis. I wanted to be a part of trying to produce change from within the system," Gallego said. 
Later, Gallego received her master's in social work and then worked in wraparound, the highest level of intervention services before social workers participate in residential and patient activities. Licensed Clinical Social Workers can also provide therapy, as well as social work.  
"I think of social work and therapy like two train tracks, running side by side," Gallego said. "You have to do work at the system level, removing barriers and making systems accessible. But there's also work to be done internally with the individual, helping people find their motivation, and work through mental health barriers. And I realized that's what I wanted to do."
"
It's often really helpful to just hear that you're not the only one experiencing things."
— Mackenzie Gallego
Currently, LAHS mental health workers, including Gallego, are launching student-based wellness groups named "Calm Minds" and "Learn to Rise". This new after-school program helps students build wellness skills through psychoeducation in a way that teaches students about the origins, treatments, etc, of a given mental illness. These student-led support groups are supervised by clinicians from Pacific Clinics. 
Gallego says the goal of Calm Minds and Learn to Rise is to help students build up wellness based-skills; specifically, skills that help students maintain balance, regulate their emotions, manage their stress, and prioritize healthy relationships.
"Feeling less like our emotions control us and more like we have tools that let us respond mindfully and thoughtfully to our emotional experiences translates into healthier relationships and communication," Gallego said. 
Calm Minds and Learn to Rise purposely take place in smaller groups, so students can choose to be as vulnerable as they'd like to be while understanding that they're not alone.

"It's often really helpful to just hear that you're not the only one experiencing things. […] The benefit of doing Calm Minds and Learn to Rise in a small group setting creates a space for students to share experiences in a way that lets students feel like 'Oh yeah, the things I'm experiencing are actually much more normal than I realized'" Gallego said.  
If you are interested in joining these sessions, please contact [email protected] to set up a screening conversation to ensure that this group will meet your needs. The next session will take place after spring break.
Leave a Comment