Los Altos varsity soccer ties against rival Mountain View in scoreless game
Near misses and close saves defined the Los Altos High School varsity boys soccer match against their rivals the Mountain View High School Spartans last Monday night. Despite their many opportunities to score, the teams ended the match in a scoreless tie.
"Going into the game, we know it's our rival team, so we're looking for a tough game," varsity captain senior Arya Hatami said. "It's gonna be a close game, typically it'll be 1–0 — it'll never be 5–0 against Mountain View."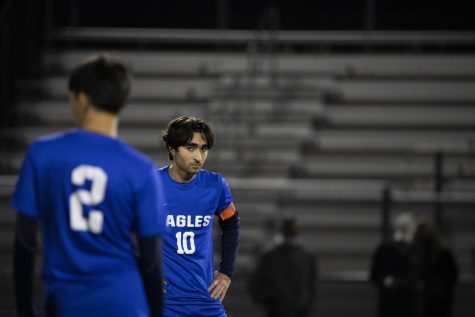 Unlike previous matches, Los Altos was forced to play without Head Coach Roberto Magellan, who was unable to come Monday's game, so Junior Varsity Coach Gilbert Barranco stepped up to the role. For the players, the coaching switch meant having to adapt to a new style of play. Unlike Magellan, Barranco substituted players out in larger groups.
Nerves ran high in the first half of the game, as the Eagles struggled to take control offensively. MVHS continually brought pressure to the goal box, but strong play from goalie senior Edwin Morales and some missed shots prevented the Spartans from converting any of their scoring chances.
"We got lucky," Barranco said. "During the first half, they had three open shots in front of the goal. And they missed. During halftime, I told the team that if they allow the Spartans to pressure us, then we're going to have a lot of trouble, which is what had happened."
"It's a different coaching style, so in the first half we still hadn't adjusted to his tactics," midfielder senior Andrew Rios-Sandoval said.
After the halftime talk, however, Los Altos adapted to the strategy.
"In the second half, we played much better," Barranco said. "We had more opportunities than they had, but unfortunately, we weren't able to score."
One of these chances came after a direct free kick was issued, but just barely missed it, hitting the right post.
"I was devastated, but the trick is not to focus on it," Arya said. "If you dwell on it, you won't be able to focus in the last 10 minutes."
After a much more exciting second half, the game ended in a well fought, but scoreless, tie.
"At the end of the day, there's nothing we can do," Arya said. "This was definitely one of the best teams we're going to face this season, so a tie's not too bad."
The area the team could have the most improvement on, according to Barranco, is playing as one cohesive unit.
"No doubt, they're all great players," Barranco said. "But they need to work on being more connected with everybody else."
"This season, we had a rough start, but I think we are starting to build as a team," Arya said. "We're developing some chemistry, and the team's like a family now, so I think we're gonna get a couple more wins."
Leave a Comment