Los Altos High School's artists shine at recent NAHS art auction
For student artists at Los Altos High School, art means even more than a way to express themselves: art allows students to find a community while learning skills to make art a part of their future.
National Art Honors Society (NAHS) is the biggest art club on campus, and members spend hours of time working on art volunteer projects that contribute to the community. Los Altos residents may remember the painted bears that were set up downtown during the COVID-19 pandemic — many of those bears, which were sold for up to thousands of dollars, were painted by NAHS members.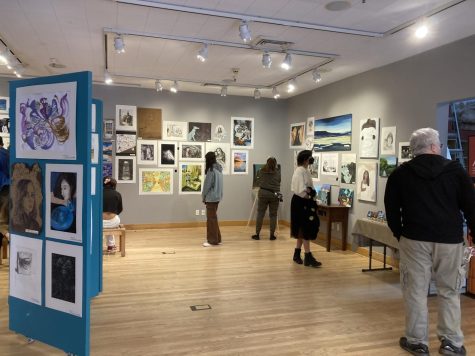 Most recently, NAHS continued to serve the community through art in conjunction with the fall showcase for LAHS art classes — including Photography, Drawing and Painting — NAHS hosted an art sale at the Los Altos History Museum. Over 300 student art creations were hung throughout the museum, with mediums ranging from oil painting and watercolor to mixed media and 3D art. By moving the art sale away from campus, NAHS hoped to encourage members of the community beyond LAHS parents and students to attend. 
For NAHS members, the value of the art auction was two-fold: they tested the waters of the professional art world and the gratification that comes from authentic self-expression.
"Ms. An makes sure to value our art for what it deserves," NAHS president and senior Rose Shortland said. "A lot of the time, people will think, 'Oh, a painting that a high schooler did, let me just buy it for 30 bucks.' But NAHS makes sure to give people the credit they deserve just because of the time and effort that these people put into the pieces."
For blooming artists, the learning experience proved worthwhile. 
"A lot of us priced our work much lower [than we should have] and were advised to raise the price," club member Ellie Lin said. 
"
I think art kind of acts like an alternative to spoken language in your community.
— NAHS member Blaise Wang
Many of the pieces ended up being sold for over a hundred dollars, with some nearing 200. Properly pricing art is a skill that sharpens with time and experience, and starting during their high school careers gives the aspiring artists of NAHS the opportunity to explore the world of professional art. Students are encouraged to take into account the cost of materials, hours put into the project and the quality of a piece when pricing.
But regardless of the valuable experience opportunities such as the art sale give them, what many members find the most rewarding is the outlet for expressing themselves that art provides. 
"I think art kind of acts like an alternative to spoken language in your community," NAHS member Blaise Wang said. "You're communicating an idea in a visual way, and I think through this medium, we get to show parts of ourselves that couldn't necessarily be communicated through language. The medium drives some form of respect for what you're trying to say. When you put it in art, people tend to listen more, tend to appreciate what you have to say better."
Leave a Comment