Los Altos High School ranked 14th public high school in California
Los Altos High School has been named the 14th best public high school in California by Niche, a well-established site that ranks and reviews schools in the United States. Mountain View High School ranked 19th, and the Mountain View–Los Altos School District was named the fourth best school district in California.
LAHS's overall Niche grade was an A+, determined through a series of factors weighted by importance. Academics — consisting of math and reading proficiency, average graduation rate, SAT and ACT score and AP enrollment — is weighted 60 percent, while sports are weighted at 2.5 percent. This ranking was decided from over 300 reviews, over 50 surveys and comprehensive school demographic data.
Culture and diversity, based on racial and economic diversity, is weighted at 10 percent along with the teachers category, which is graded based on salary, state test scores, and student surveys. Like sports, resources and facilities, and clubs and activities are weighted at 2.5 percent.
LAHS scored an A+ in academics and college prep, meaning that the school has a high proficiency in SAT and ACT scores, graduation rate and AP enrollment. Niche's state testing report read that 71 percent of students at LAHS are proficient in math and 85 percent in reading.
"The academic environment [at LAHS] is very rigorous and can be really competitive at times," an alumni reviewer wrote. "But, it allows students to strive for excellence. There are a lot of choices in what classes to take, which is appreciated, and the teachers are mostly kind and excited to teach."
However, some reviews have expressed frustrations in differences between college preparatory classes and their advanced placement counterparts.
"This is overall, a pretty good school," one student review said, "However, if you aren't in an honors or AP class, the environment is much different. The teachers aren't as passionate and overall, the quality of the class is poorer when it's a regular grade level class."
Niche gave the quality of teachers at LAHS an A, based on teacher salary, teacher absenteeism, survey responses and state test results. From the student and parent surveys, 73 percent of students and parents believe teachers make engaging lessons, 84 percent selected that teachers genuinely caring about students and 86 percent agreed that teachers were able to adequately control and lead their classroom. The student to teacher ratio landed at 20–1, which is higher than the national average of 17–1.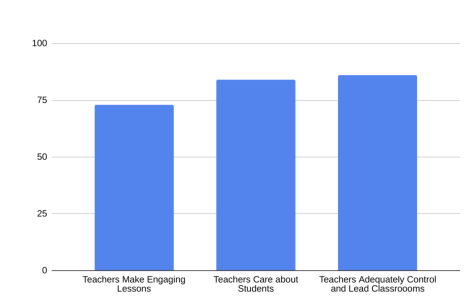 "I like how my teachers are focused on wellness and reducing stress levels, while still maintaining a rigorous workload," an alumni commented. "My teachers are strict about their policies, but they also adapt to each individual's learning style, which I appreciate."
"Just like with any other school, students will most likely come across both good and bad teachers," a 2019 senior reviewed. "There are some teachers who really care about their students and are willing to go out of their way to help them succeed, but there are also teachers who couldn't care less."
LAHS received an A for racial and socioeconomic diversity as well, coupled with poll responses from students and parents on school culture and diversity. Out of 2,253 students attending LAHS, 36.4 percent are white, 26.9 percent are Hispanic, 26.8 percent are Asian, 8.5 percent are multiracial and 0.8 percent are Black.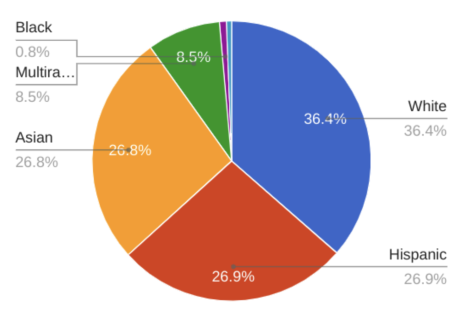 "[LAHS is] a good school, most of the teachers are amazing and really care about you and your future," a senior wrote. "However, there does exist a racial and economic difference in the amount of students. There is also a barrier among ASB [Associated Student Body] and minority representation in this class."
For health and safety, LAHS received an A. This grade was determined through student absenteeism, the number of suspensions and expulsions through data from National Center for Education Statistics, and survey responses on the school environment from students and parents. 89 percent of students feel safe on campus and 73 percent of students like and feel happy at LAHS.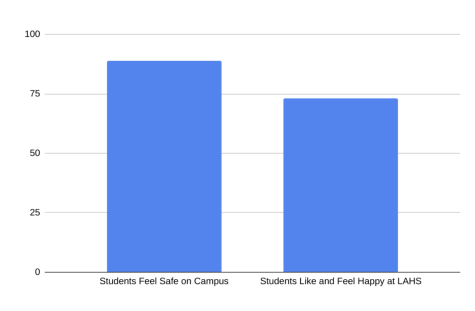 LAHS' grade for clubs and activities was a B. This was calculated based on student and parent survey responses and student participation, as well as student expenses. Polls from Niche, with a sample size of over 50 responses, reveal that 59 percent of students and parents believed clubs and organizations received proper funding, 71 percent agreed that many students participate in clubs and organizations, while 88 percent responded that there were numerous clubs and organizations for students to participate in.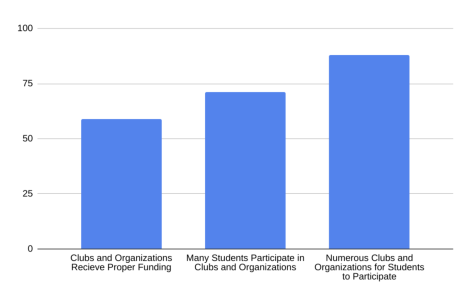 "LAHS's focus as a school is mainly academics," a student wrote. "Spirit lacked due to how hard students were pushed academically, that in the end it wasn't even worth trying to show pride."
Out of 322 reviews, consisting of students and alumni, 168 gave four out of five stars, 70 gave five out of five stars and 85 scored Los Altos less than three stars.
View Comments(1)